Publication:
Síntesis y evaluación farmacológica de nuevas entidades moleculares con aplicación a enfermedades neurodegenerativas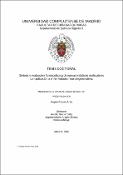 Authors
Advisors (or tutors)
Editors
Publisher
Universidad Complutense de Madrid
Abstract
La prevalencia de las enfermedades neurodegenerativas aumenta con el envejecimiento de la población. La Organización Mundial de la Salud estima que, para el año 2040, estas enfermedades serán la segunda causa de muerte por delante del cáncer. Por tanto, comprender los fundamentos fisiopatológicos y desarrollar nuevos métodos de diagnóstico y agentes terapéuticos, hacen de las enfermedades neurodegenerativas un área de gran interés científico. La enfermedad de Alzheimer (EA) y la enfermedad de Parkinson (EP) son las más comunes entre las enfermedades neurodegenerativas y, precisamente, objeto de este trabajo de Tesis doctoral. Se considera que en estas patologías intervienen múltiples factores como pueden ser la degradación y agregación proteica, el estrés oxidativo, la generación de radicales libres y/o la disfunción mitocondrial. Las terapias actuales disponibles para tratar las enfermedades neurodegenerativas son fundamentalmente sintomáticas y conllevan una pérdida gradual de eficacia, es decir, la mayor eficacia es alcanzada en las fases tempranas de la enfermedad para ir disminuyendo progresivamente a medida que la enfermedad avanza. Así, el descubrimiento de nuevos fármacos con aplicación a enfermedades neurodegenerativas se centra en la identificación de nuevas entidades moleculares que retrasen la progresión de la enfermedad...
Neurodegenerative diseases (NDs) have become increasingly more prevalent since their incidence increase as the population ages. The World Health Organization projects that NDs will surpass cancer to become the second leading cause of death by 2040. Therefore, the urgency to understand the fundamentals of NDs as well as develop diagnostic and therapeutic agents, make NDs an area of great scientist interest. Many different kinds of diseases are neurodegenerative, being the most common Alzheimer's disease (AD) and Parkinson's disease (PD), and therefore the aim of this thesis. These disorders are considered to be produced by multiple factors such as protein degradation and aggregation, oxidative stress, free radical formation and/or mitochondrial dysfunction. Nowadays, current therapies available to treat NDs are only symptomatic and their efficacy is gradual what means that therapies usually work well in the early phases of the disease but their efficacy is gradually lost as the disease progresses. Therefore, the drug discovery for NDs has been focused on the identification of new molecular entities which are able to delay disease progression...
Description
Tesis inédita de la Universidad Complutense de Madrid, Facultad de Ciencias Químicas, Departamento de Química Orgánica I, leída el 15-01-2016
Collections