Publication:
La diplomacia de los grupos de países de ideas afines. Su rol en la agenda-setting, el multilateralismo y la gobernanza global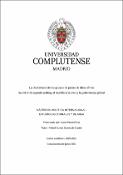 Authors
Advisors (or tutors)
Editors
Abstract
Los grupos de países de ideas afines han venido desempeñando un rol significativo en la política internacional actual. Esta investigación tiene el propósito de examinar el novedoso comportamiento de lo que denominamos Grupos de Estados con Afinidad Construida (GEAC). Se evalúan los aportes de los GEAC en la agenda-setting y su contribución al multilateralismo y la gobernanza global durante el periodo de 2017 hasta abril 2021. Se estudian las declaraciones de los tres casos en sus respectivos ámbitos, el Grupo de Ideas Afines (LMG) actuando en el Consejo de Derechos Humanos de Naciones Unidas. El Grupo de Integridad Ambiental (EIG) presente en las reuniones pertinentes a la Convención Marco de las Naciones Unidas sobre el Cambio Climático. Por último, el G-20 dentro de la Organización Mundial del Comercio. Los resultados y conclusiones incluyen una mayor claridad del mecanismo de los GEAC. Los tres casos tienen integrantes diversos y estructuras flexibles, acomodándose con fluidez en el escenario internacional. Además, logran insertar la mayoría de sus objetivos en la agenda-setting final, aportando puntos relativos a los derechos humanos, cambio climático y comercio internacional. Asimismo, comparten ciertos principios y reformas favorables que contribuyen a la revitalización del multilateralismo. El rol de los GEAC en la gobernanza global incluye iniciativas parciales, lo que limita su capacidad de ser actores con influencia planetaria. Sin embargo, logran generar espacios de cooperación y tienen características que pueden impulsar la gobernanza global.
The like-minded groups of countries have been playing a significant role in the current international politics. The purpose of this research is to examine the novel behavior of what we call Groups of States with Constructed Affinity (GSCA). The GSCAs additions to the agendasetting and their contribution to multilateralism and global governance are evaluated during the period from 2017 to April 2021. The statements of the three cases are studied in their respective fields, the Like-Minded Group (LMG) acting in the United Nations Human Rights Council. The Environmental Integrity Group (EIG) present in meetings relevant to the United Nations Framework Convention on Climate Change. Finally, the G-20 within the World Trade Organization. The results and conclusions include greater clarity of the GSCA mechanism. All three cases have diverse members and flexible structures, accommodating themselves fluently to the international scene. In addition, they manage to add most of their objectives in the final agenda-setting, contributing points related to human rights, climate change and international trade. They also share certain favorable principles and reforms that contribute to the revitalization of multilateralism. The role of GSCAs in global governance includes partial initiatives, which limits their ability to be actors with planetary influence. However, they manage to generate spaces for cooperation and have characteristics that can promote global governance.