Publication:
Housing cooperatives in Portugal - the end of social purposes?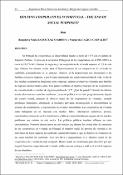 Advisors (or tutors)
Editors
Publisher
Facultad de Ciencias Económicas y Empresariales. Escuela de Estudios Cooperativos
Abstract
In Portugal housing cooperatives (co-ops) developed greatly after the 1975 change of political regime. The economic weight of cooperatives in national GDP (2005) is about 8.8% of total business volume and housing cooperatives make up about 3.3% of this total. During the last 30 years the functioning of housing cooperatives has changed, particularly in the principal objective of providing reasonable accommodation for lower-income families and thereby improving their living conditions/quality of life .Today many housing cooperatives function as companies, which promote housing for the middle or middle-upper income but not for the lower income groups. This seems contrary to the principal objective of the cooperatives since the 1975 change in political regime. What happened? During the last thirty years many things changed. Political policy has seen a progressive retreat of state control, undermining the social objective of housing co-ops, creating financial problems, disappearance of incentives, diminished availability of lands for construction and speculation in the housing sector. Housing co-ops are functioning in a market that has many failures. Asymmetric information, prices, unique characteristics of housing and competitiveness in the market are some of the many problems that exist in this sector. Public policy also influences these characteristics. We demonstrate in this paper that during the thirty years of existence of housing co-ops in Portugal the social objective to promote houses for low-income individuals has changed considerably and the target resident the houses has also changed. This leads us to question if the social objective of housing co-ops is being achieved. We used a questionnaire to discover why people look for cooperative housing, what the advantage of cooperative housing is and what the members' income level is.
En Portugal las cooperativas se desarrollaron mucho a partir de 1975 con el cambio de Régimen Político. El peso en la economía Portuguesa de las cooperativas en el PIB (2005) es cerca del 8,8 % del volumen de negocios y las cooperativas de vivienda suponen el 3,3 de este tipo. Durante los últimos treinta años el funcionamiento de las cooperativas de vivienda ha cambiado, principalmente en su principal objetivo, el de proporcionar una alojamiento a las familias con pocos ingresos y por lo tanto mejorando sus condiciones/calidad de vida. A día de hoy muchas cooperativas funcionan como empresas, quienes promueven viviendas para familias de ingresos medios/medios-altos. Esto parece contrario al objetivo principal de las cooperativas de vivienda desde el cambio de régimen político de 1975. ¿Qué ha pasado? Durante los últimos treinta años muchas cosas han cambiado. La acción política se ha visto progresivamente alejada del control estatal, minando el objetivo social de las cooperativas de vivienda., creando problemas financieros, eliminando la iniciativa (privada), disminuyendo la disponibilidad de terrenos de construcción, y especulación en el sector inmobiliario. Las cooperativas de vivienda están trabajando en un mercado con muchos fallos. Información asimétrica, precios, características únicas del sector inmobiliario y falta de competitividad son algunos de los muchos problemas que existen en este sector. Las políticas públicas también influyen en estas características. Nosotros demostramos en este trabajo que durante los treinta años de existencia de las cooperativas de vivienda en Portugal el objetivo social de proveer de vivienda a los individuos de bajos ingresos ha cambiado considerablemente y que el objetivo de residencia de las casas también ha cambiado. Esto nos lleva a preguntarnos si el objetivo social de las cooperativas de vivienda ha sido cumplido. Hemos usado un cuestionario para descubrir por qué la gente busca las cooperativas de vivienda, cuáles son sus ventajas y cuál es el nivel de ingresos de sus miembros.
Citation
AGUDO J.M.,; Cooperação e Cooperadores, Livros Horizonte Lisboa, 1980. ARNOTT R.,; Economics Theory and Housing in Handbook of Regional and Urban Economics V. 2 - Urban Economics, North-Holland; Amsterdam,, (1987) p 959-988. ISBN- 37-186-410-5. BALLESTERO E.); Teoría Económica de las Cooperativas , (1983) Madrid, ISBN- 84-206-2371-7. BARR N (1987) The Economics of the Welfare State, Stanford University Press Stanford - California,. ISBN-13-978-01264971. BILLINGS B. A., WELD L. G. Definition of Cooperative Housing Corporations, CPA Journal. (1991); p 159-198. COOPER, M.; RODMAN, M. C.. (1992). New Neighbors: A Case Study of Cooperative Housing in Toronto. Toronto: University of Toronto Press. ISBN:0802059929. CORNES R. STANDER T.; The Theory of Externalities, Public Goods and Club Goods, Cambridge University Press (1987) Cambridge,. ISBN-13 978-0521477185. CULYER A. J. The Political Economy of Social Policy Martin Robertson, Oxford, (1980); ISBN-978-0318622428. ENC, Livro Branco sobre a Política de Habitação em Portugal, Encontro Nacional de Habitação. (1993); Lisboa, ISBN 972-673-383-9. EU REPORT ON GOOD PRACTICE IN COOPERATION TRANSFERABLE LESSONS. Project "Integrated Form of Cooperation in Housing Policy for Housing Provisions for Risk Groups. FENACHE, A Política de Habitação em Portugal, Colóquio "Agenda 2000 da UE: as suas Implicações para Portugal" ... Colóquio "A Política da Habitação" Edição de 1998, 294 p Lisboa, ISBN 972-8395-03-5. FERREIRA A. F. Cooperativas de Habitação em Portugal, , Fundo Fomento de Habitação, Ministério das Obras Públicas. (1979); Lisboa; ISBN 972-36-0168-8. HABITAT II .- A Agenda Habitat. Proposta Resultado da Segunda Reunião Intersecções do Grupo de Redacção Informal do Comité de Organização da Conferência das Nações Unidas sobre Estabelecimentos Humanos, Istambul,. ,(1993); ISBN( not avaliable). HAYS, A. R., editor (1993). Ownership, Control, and the Future of Housing Policy. Westport, Connecticut: Greenwood. ISBN: HD7287.8.096. INSCOOP Introdução ao Cooperativismo, , INSCOOP. ,(1980); Lisboa ISBN 972-9389-05-5. INSCOOP - Código Cooperativo, INSCOOP. ,(2005); Lisboa, ISBN 972-401690. INSCOOPO .- Regime Legal das Cooperativas, INSCOOP. ,(2004); Lisboa, ISBN 972-8161-146. LE GRAND J., PROPPER C., ROBINSON R., The Economics of Social Problems, Mac Millan (3rd editions). (1992); London,; ISBN 03335525X. LEITE J. S. Enquadramento Histórico-Social do Movimento Cooperativo, INSCOOP. (2004); Lisboa, ISBN 972-9424-25-X. MICELI T. J., SAZAMA G. W. SIRMANS C. F. The Role of Limited- Equity Cooperatives in Provaiding Affordable Housing, in Housing Policy Debate Vol. 5, University of Connecticut. (1994); pp 469-472. MORÓN B., P. (1994)"Las cooperativas de viviendas, según su origen. Consideraciones Generales" Revesco estudios cooperativos, DIC; (60) 145-155. NAMORADO R. As relações entre as Cooperativas e o Estado em Portugal , do Estado Paralelo ao Estado Heterogéneo, in Portugal um Retrato Singular, Porto, Ed, Afrontamento. (1993);Lisboa p.339 - 372. NAMORADO R.); Da Cooperação ao Direito Cooperativo, para uma Expressão Jurídica da Cooperatividade, Coimbra, Faculdade de Economia , Universidade de Coimbra, (PhD Thesis). 1993; Coimbra. OÑATE C. D., J. (1995) El movimiento cooperativo y la Legislación cooperativa ante identidad cooperativa Revesco estudios cooperativos, DIC; (61) 141-154 ISSN: 11356618. PAIVA FA. As cooperativas de habitação em Portugal: documento da Jornada de reflexão sobre cooparativas habitacionais promovido pela Fenache, INSCOOP, 1996 ISBN 972-9424-31-4. RODRIGUES A. N.(1996);Cooperativas de Habitação, in Que Perspectivas para a Economia Social em Portugal, Lisboa, CEEPS- Centro de Estudos de Economia Pública e Social, p 101-120. SARDINHA B. (1996); - "O Sector Cooperativo e a Política Habitacional em Portugal pós 25 de Abril". ISEG, Lisboa ;( Master Thesis). SAZAMA, G., "A History of Limited Equity Housing Cooperatives," American Journal of Economics and Sociology, October, 2000, 59(4) 573-608. ISBN 0-7432-3546. VARIAN H. R.); Intermediate Microeconomics, A Modern Approach,, Hal R. Varian. (1999) New York, ISBN-13- 393-973700.
Collections