Publication:
La interacción entre el ciclo económico y la actividad innovadora y la fijación de precios de las empresas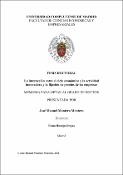 Files
Authors
Advisors (or tutors)
Editors
Publisher
Universidad Complutense de Madrid
Abstract
Esta tesis se articula en torno a tres capítulos centrales que han sido publicados en diversas revistas internacionales de economía. El propósito general de la disertación es contribuir a entender los efectos del ciclo económico sobre las decisiones de las empresas en distintos ámbitos y si dichos efectos pueden ser persistentes y ejercer un impacto sobre la asignación de recursos y el crecimiento económico a largo plazo. Además, uno de los principales hilos conductores es el papel de la presencia de restricciones financieras como mecanismo de transmisión de perturbaciones de diversa índole. Así, los dos primeros trabajos se centran en las decisiones de las empresas relacionadas con el progreso tecnológico y la innovación, que son los elementos fundamentales para el crecimiento sostenido de las economías. El tercero, en cambio, aborda la estimación de los márgenes precio-coste de las industrias manufactureras españolas para entender la evolución de los precios y del poder de mercado, el cual puede contener información sobre el grado de eficiencia asignativa de la economía y, en última instancia, su capacidad de crecimiento...
This thesis is organized around three central chapters that have been published in various international journals of Economics. The general purpose of the dissertation is to contribute to understanding the effects of the economic cycle on the decisions of companies in different areas, and whether these effects can be persistent and have an impact on the allocation of resources and long-term economic growth. Furthermore, one of the main threads is the role played by the presence of financial restrictions as a transmission mechanism for disturbances of various kinds. Thus, the first two chapters focus on firms' decisions regarding technological progress and innovation, which are the fundamental drivers of sustained economic growth. The third one, on the other hand, addresses the estimation of the price-cost margins of the Spanish manufacturing industries to understand the evolution of prices and market power, which may contain information on the degree of allocative efficiency of the economy and, ultimately, its growth capacity...
Description
Tesis inédita de la Universidad Complutense de Madrid, Facultad de Ciencias Económicas y Empresariales, Departamento de Análisis Económico y Economía Cuantitativa, leída el 18-01-2022
Collections