Publication:
Articulaciones del Sur Global: afinidad cultural, internacionalismo solidario e Iberoamérica en la globalización contrahegemónica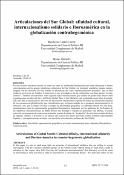 Authors
Advisors (or tutors)
Editors
Publisher
Universidad Complutense de Madrid
Abstract
En este artículo buscamos arrojar luz sobre las redes de solidaridad internacional que están dispuestas a asumir convergencias con los grupos subalternos silenciados del Sur Global, sin pretender enseñarles ningún camino, ninguna vía de salvación (en este sentido se diferencian del viejo "internacionalismo proletario" que al final estaba al servicio de un Estado), ni intervenir en sus actividades a fin de conducirlas a un buen puerto "revolucionario". También discurriremos sobre aquellas redes transnacionales que tienden un puente más directo entre organizaciones sociales del Sur y del Norte Global. Pero el Sur Global no está constituido como tal en la actualidad, sólo hay, a nuestro juicio, procesos de articulación. Intentaremos explorar las líneas de articulación regional de esos procesos de globalización, que consideramos que, en buena medida, no se producen aleatoriamente ni en abstracto, sino que se forjan en torno a campos de proximidad geográfica y/o afinidad cultural. En esta línea, examinaremos cómo la representación geopolítica Iberoamérica, impulsada por los gobiernos de los Estados de las repúblicas latinoamericanas de habla ibérica más Portugal y España (en particular esta última), se puede convertir en un espacio de contra-representación gracias al trabajo de "traducción" de activistas sociales del área de afinidad cultural, y de hecho es un espacio que vincula dos países del Norte Global (también especialmente España), y sus organizaciones sociales, con una de las articulaciones políticas del Sur Global.
In this paper we aim to shed some light on networks of international solidarity that are willing to accept convergence with the voiceless subaltern groups of the Global South without trying to teach them a path to salvation (in this respect, they differ from the old "proletariat internationalism" that ultimately served the state) or intervening in their activities in order to lead them to a "revolutionary haven". We shall also reflect on the transnational networks that bridge the gap between social organizations of the Global North and South more directly. At the present time, however, the Global South has not been constituted as such; in our opinion, there are only processes of articulation. We shall attempt to explore the lines of regional articulation of the Global South in the globalization processes. We consider that in many ways these do not happen fortuitously or in the abstract, but are shaped around fields of geographical proximity and/or cultural affinity. Along these same lines, we shall examine how Iberian-American geopolitical representation, promoted by the governments of the Spanish-speaking Latin American republics, plus Portugal and Spain – especially the latter – could become a space of counter-representation thanks to the work of "translation" of social activists in the field of cultural affinity; indeed, it is a space that links two countries from the Global North (once again, Spain in particular) and their social organizations, with one of the political articulations of the Global South.
Collections