Publication:
La información internacional desde Honduras: un estudio sobre la producción comunicativa de la Agencia Francesa de Prensa (AFP) entre 2001 y 2011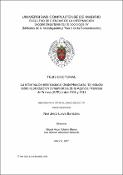 Files
Authors
Advisors (or tutors)
Editors
Publisher
Universidad Complutense de Madrid
Abstract
En la presente Tesis Doctoral se sometió a análisis la producción comunicativa de una de las cuatro agencias internacionales más grandes del mundo, que abastecen a los medios de comunicación de masas en los cinco continentes, periódicos, cadenas de televisión, radioemisoras y digitales, la Agencia Francesa de Prensa (AFP). El estudio se hizo con un caso específico, como es la producción de diez años, entre 2001 y 2011, transmitida desde Honduras. La investigación constituye un aporte de mucho valor al conocimiento científico acerca de esas empresas, que están en la primera fila en las instituciones de la comunicación pública encargadas de hace circular la información en los cinco continentes desde el siglo XIX. Los análisis se hicieron apelando básicamente a la Teoría de la Mediación Social, la Producción Social de la Comunicación de Manuel Martín Martín Serrano, la Teoría del Framing y la Teoría del Control Social. El objetivo general de la investigación era explorar el modelo mediacional en esa producción que, aunque no se podría generalizar, arrojaría luces sobre las prácticas de las agencias internacionales de noticias, que, de acuerdo a otros investigadores, tienen similitudes en la forma de operar. Otros objetivos eran examinar los volúmenes de producción por días, meses y años, las características que tienen esos productos, los componentes en su estructura interna, los lugares donde se produjeron, los autores de los mismos, los ámbitos temáticos que se abordaron en los contenidos para verificar la visibilidad de Honduras a través de esos productos y el tratamiento informativo que subyace en esos relatos...
This Doctoral Thesis submitted for analysis communicative production of the four largest international agencies in the world, catering to the mass media on five continents, newspapers, television, radio and digital, the French Agency Press (AFP). The study was done with a specific event, such as the production of ten years, between 2001 and 2011, broadcast from Honduras. Research is a valuable contribution to scientific knowledge about those companies that are in the front row at the public institutions responsible communication circulate information on five continents since the nineteenth century. Analyses were basically appealing to the Social Theory of Communication and Production Social Communication Manuel Martin Martín Serrano, Framing Theory and the Theory of Social Control. The overall objective of the research was to explore the mediational model in this production, although you could not generalize, would shed light on the practices of international news agencies, which, according to other researchers, have similarities in the way we operate. Other objectives were to discuss production volumes for days, months and years; the characteristics that have these products, parts in its internal structure, the places where they occurred, the authors thereof, the thematic areas that were addressed in the contents to verify Honduras visibility in these products and the treatment of information that underlies in these stories. Finally it sought to examine production in a dialectical analysis to determine whether they had undergone changes over the decade, both production volumes in its structure and in the reference areas...
Description
Tesis inédita de la Universidad Complutense de Madrid, Facultad de Ciencias de la Información, Sección Departamental de Sociología IV (Métodos de la Investigación y Teoría de la Comunicación), leída el 03-02-2016
Collections