Publication:
Identidades (im)pertinentes. Analizando la guerra desde la teoría feminista : el caso de las mujeres del Partido Comunista del Perú-Sendero Luminoso y del movimiento revolucionario Tupc Amaru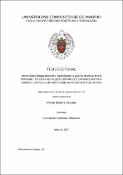 Authors
Advisors (or tutors)
Editors
Publisher
Universidad Complutense de Madrid
Abstract
La última etapa de violencia política en Perú enfrentó al Estado con el Partido Comunista del Perú-Sendero Luminoso (PCP-SL) y Movimiento Revolucionario Tupac Amaru (MRTA), dejando al país andino sumido en un conflicto interno activo durante dos décadas (1980-2000). La participación femenina en el conflicto fue muy amplia e inesperada, especialmente en el PCP-SL. Esto conllevó a formar el estereotipo de mujer perteneciente a estos grupos definida como "cruel, perversa y anti-natural", ideal reforzado por gobiernos, medios de comunicación y una parte significativa del ámbito académico. Tras comprobar que la mayoría de las investigaciones al respecto siguen esta línea, la presente tesis hace hincapié en los factores sociales y políticos que influyen en la presencia de las mujeres en las guerras y conflictos bélicos. A través de una exhaustiva investigación documental y un trabajo etnográfico desarrollado en Perú (2007-2009), se intenta reconstruir la memoria y la subjetividad de las mujeres de ambos grupos armados (PCP-SL y MRTA) con el fin de analizar, entre otras cuestiones, las razones estructurales y psicosociales de la implicación de las mujeres como agentes de violencia política; la ruptura, adapción y reconstrucción identitaria que debieron realizar y; la evaluación de sus experiencias vitales y políticas.
From 1980 to 2000 Peru went through a period of extreme violence that involved confrontation between two armed groups, the Peruvian Communist Party- Shining Path (PCP-SL) and the Tupac Amaru Revolutionary Movement (MRTA), against the forces of the State. Female participation in the conflict was widespread and unexpected. The women who joined the Shining Path group were significant in number. The dominant discourse about women in armed groups has been defined as "ruthless, unfeeling, unnatural and cruel". An ideal reinforced by the Peruvian governments, media and academia, who classified these women as "deviants". My thesis emphasises the social and political factors which influence the presence of women in wars. Through an exhaustive documentary investigation, a qualitative research and an ethnographic work carried out in Peru (2007-2009), I reconstruct the memory and subjectivity of women in both Peruvian armed groups (PCP-SL and MRTA) to analyse the structural and psycho-social reasons for the involvement of women as agents of political violence. Particular attention is paid to the breakdown, adaptation and reconstruction of the identities which the women were forced to perform. An evaluation of the their experiences is also included.
Description
Tesis inédita de la Universidad Complutense de Madrid, Facultad de Ciencias Políticas y Sociología, leída el 04-07-2017
Collections