Publication:
Evolución de los pacientes con prediabetes en Atención Primaria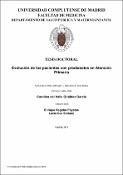 Files
Editors
Publisher
Universidad Complutense de Madrid
Abstract
El término prediabetes define a un estado intermedio de hiperglucemia en el cual las personas tienen niveles de glucosa en sangre superiores a lo normal, pero inferiores a los umbrales establecidos para el diagnóstico de diabetes mellitus (DM). El estado de prediabetes implica un riesgo aumentado para el desarrollo de DM y enfermedad cardiovascular. Sin embargo, la evolución de los sujetos con prediabetes es variable: algunas personas progresarán a DM, otras permanecerán en dicho estado el resto de su vida, mientras que otras revertirán al estado de normoglucemia. Es cierto que la información publicada acerca de la prediabetes es cada vez mayor; sin embargo, la evidencia científica disponible en relación a ciertos aspectos es muy heterogénea, e incluso contradictoria en algunos casos. Para dar respuesta a algunas de las lagunas de conocimiento existentes, hemos desarrollado la presente tesis doctoral con los siguientes objetivos específicos: 1) Identificar los factores de riesgo modificables asociados con la presencia de prediabetes en hombres y mujeres; 2) Examinar las características clínicas y bioquímicas y la prevalencia del síndrome metabólico en sujetos agrupados en cuatro estados glucémicos de acuerdo con los criterios de hemoglobina glucosilada A1c (HbA1c) y glucosa plasmática en ayunas (GPA); 3) Evaluar el efecto de la edad sobre la incidencia de diabetes según adiposidad general y central, después de tres años de seguimiento de adultos con prediabetes; y, 4) Estudiar el papel que tienen los factores del estilo de vida en la reversión a la regulación normal de la glucosa según el tipo de prediabetes...
The term prediabetes defines an intermediate state of hyperglycemia in which people have blood glucose levels higher than normal, but lower than the established thresholds for diagnosis of diabetes mellitus (DM). The prediabetes state implies an increased risk for the development of DM and cardiovascular disease. However, the evolution of subjects with prediabetes is variable: some people will progress to DM, others will remain in that state for the rest of their lives, while others will revert to thestate of normoglycemia. It is true that the information published about prediabetes is growing; however,the scientific evidence available in relation to certain aspects is very heterogeneous, and even contradictory in some cases. In order to respond some of the existing knowledge gaps, we have developed this doctoral thesis with the following specific objectives: 1) To identify modifiable risk factors associated with the presence of prediabetes in men and women; 2) To examine the clinical and biochemical characteristics, and the prevalence of metabolic syndrome components in patients grouped into four glycemic statuses according to glycated hemoglobin A1c (HbA1c) and fasting plasma glucose (FPG) criteria of prediabetes; 3) To evaluate the effect of age on diabetes incidence by general and central adiposity, after three-years follow up,in adults with prediabetes; y, 4) To study the role of lifestyle factors on the reversion to normal glucose regulation according to type of prediabetes...
Description
Tesis de la Universidad Complutense de Madrid, Facultad de Medicina, leída el 19/11/2018
Collections