Publication:
Anticoagulantes orales directos (ACOD) en enfermedad tromboembólica venosa: evaluación de la escala SAMe-TT2R2 para determinar su utilización frente a antivitamina K y utilidad clínica de los ACOD en diferentes escenarios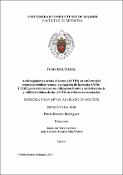 Authors
Advisors (or tutors)
Editors
Publisher
Universidad Complutense de Madrid
Abstract
La enfermedad tromboembólica venosa (ETV) es la tercera causa de muerte cardiovascular, con una elevada morbilidad y mortalidad. El pilar del tratamiento de la ETV es la anticoagulación, que previene de forma eficaz la recurrencia de la enfermedad, pero cuyo principal efecto adverso es el sangrado. El tratamiento anticoagulante clásico incluye fármacos parenterales como las heparinas y fármacos orales como los antivitamina K (AVK). En los últimos años, se han desarrollado nuevos anticoagulantes orales de acción directa (ACODs) que inhiben los factores de la coagulación II (dabigatran) o Xa (rivaroxaban, edoxaban y apixaban). Los ACODs han desplazado a los AVK como anticoagulantes de administración oral de elección en la ETV en pacientes sin cáncer, ya que son tan eficaces como el tratamiento convencional pero con menos riesgo de sangrado; además, son más cómodos de usar por su dosis fija, sin necesidad de monitorización, la ausencia de interacción con los alimentos (a diferencia de los AVK) y sus escasas interacciones con otros fármacos...
Venous thromboembolism (VTE) is the third leading cause of cardiovascular death, with high morbidity and mortality. The main stay of VTE treatment is anticoagulation, which effectively prevents the recurrence of the disease, but whose main adverse effect is bleeding. Classic anticoagulant treatment includes parenteral drugs such as heparins and oral drugs such as vitamin K antagonists (VKA). In recent years, new direct oral anticoagulants (DOACs) that inhibit coagulation factors II (dabigatran) or Xa (rivaroxaban, edoxaban and apixaban) have been developed. DOACs have displaced VKA as anticoagulants of oral administration of choice in VTE patients without cancer, since they are as effective as conventional treatment but with lower risk of bleeding; in addition, they are easier to use due to their fixed dose without the need of monitoring, the lack of interaction with food (unlike VKA) and their scarce interactions with other drugs...
Description
Tesis inédita de la Universidad Complutense de Madrid, Facultad de Medicina, leída el 10-07-2019
Collections