Publication:
«Efecto Greta»: evolución de consumidor verde a consumidor consciente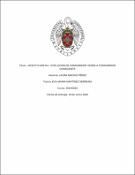 Authors
Advisors (or tutors)
Editors
Abstract
En el siguiente trabajo se estudia el «efecto Greta» que se produce en la sociedad en el último año, y si se puede trasladar al consumo de las personas. El BLOQUE I se centra en el consumidor verde ya existente, y sus características condicionadas a la sociedad y los hechos de la época; se realiza un recorrido histórico alrededor de los acontecimientos medioambientales más importantes, la reacción que tuvo la sociedad, y el movimiento ecologista y su origen. En el BLOQUE II se presenta al nuevo consumidor consciente en una época de cambios, con Greta Thunberg como principal aparición, un replanteamiento del capitalismo seguido por cada vez más empresas, un estado de «emergencia climática» cada vez respaldado por más científicos y un mundo cada vez más digital. El BLOQUE III es el estudio como tal, de la que los principales resultados son: En primer lugar, los jóvenes lideran el cambio en las calles y en las redes, pero no en el consumo. La mayoría no consume de manera más consciente que las generaciones mayores. En segundo lugar, las personas mayores no se ven directamente influidas por las personas más jóvenes, al menos en el ámbito familiar, para consumir y comportarse de manera más consciente, aunque sí opinan que sus hijos e hijas tienen mucha más información que ellos en este tema y que consumirán de manera más responsable que ellos. Por último, se estudia la posibilidad de que la gran oleada de concienciación que se había producido a finales de 2019 y principios de 2020 se vaya a ver truncada por la crisis del COVID-19, siendo esto lo más seguro.
The following paper studies the «Greta effect» on society, and the possibility to transfer it to consumption. This paper is divided in three major parts: PART I focuses on the existing green consumer and its characteristics. Those characteristics are conditioned to the historic period, so it refers to the most important environmental events, the society's reaction to those events, and the ecologist movement and its origins. PART II presents the new conscious consumer in a time of change, with Greta Thunberg as the main role; the rethinking of capitalism, followed each day by more and more companies; a state of «climate emergency» supported by many scientists, and the increasing digital world. PART III represents the quantitative study, of which the main results are: Firstly, young people are leading the change on the streets and on the internet, but not in consumption. Most do not consume more consciously than older generations. Secondly, older generations are not directly influenced by younger ones. Families state that they do not consume and behave more consciously because of their children, although they do believe that their sons and daughters have much more information on this topic than they did. They also think young people will consume more responsibly than they do. Finally, as this paper was produced during COVID-19 time, it studies the fact that this crisis will affect the levels of awareness achieved on 2019 and early 2020.