Publication:
Imparcialidad moral y relaciones personales: debates contemporáneos en filosofía moral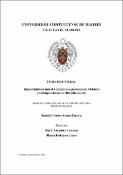 Files
Advisors (or tutors)
Editors
Publisher
Universidad Complutense de Madrid
Abstract
La ética kantiana y el utilitarismo ético son las dos grandes teorías morales que han dominado la filosofía moral desde la Modernidad hasta nuestros días. Estas éticas señalan que una característica básica de los juicios morales es la imparcialidad. Sin embargo, durante las últimas cinco décadas ha sido muy criticado el requisito de imparcialidad en la moral. Se dice, por ejemplo, que es impracticable ser imparcial por el nivel de exigencia que requiere, que uniforma a todas las personas ya que considera que todos son iguales, que solicita a los agentes morales ser desinteresados, pero es difícil imaginar un agente moral desinteresado tomando buenas decisiones, etc. Los críticos a la ética kantiana y utilitarista habitualmente sostienen que estas teorías morales imparciales son hostiles a las relaciones personales genuinas de amor y amistad, y que ignoran los proyectos de vida del agente moral. En consecuencia, los agentes morales en estas teorías socavan su integridad y se encuentran alienados moralmente. Debido a estas críticas, algunos autores señalan que las relaciones personales parecen ser opuestas a la perspectiva imparcial por lo que la parcialidad debe ser tomada en cuenta para una moralidad plena, correcta y viable...
Kantian ethics and utilitarianism are the two great moral theories that have dominated moral philosophy from Modernity to the present day. These ethics indicate that a basic characteristic of moral judgments is impartiality. However, during the last five decades, the requirement of impartiality in ethics has been criticized. It is said, for example, that it is impracticable to be impartial because of the level of demand that it requires, that it uniforms all people since it considers that all are equal, that it asks moral agents to be disinterested, but it is difficult to imagine a selfless moral agent making good decisions, etc.Critics of both, Kantian and utilitarian ethics, frequently argue that these impartial moral theories are hostile to genuine personal relationships of love and friendship and that they ignore the life projects of the moral agent. Consequently, the moral agents in these theories undermine their integrity and find themselves morally alienated. Due to these criticisms, some authors point out that personal relationships seem to be opposed to the impartial perspective so that partiality must be taken into account for full, correct and viable morality...
Description
Tesis inédita de la Universidad Complutense de Madrid, Facultad de Filosofía, leída el 10-03-2020. Tesis retirada por expreso deseo de la autora
Collections