Publication:
Configuración del estatuto internacional del Estado en la Unión Europea: el respeto a la identidad nacional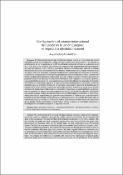 Authors
Advisors (or tutors)
Editors
Abstract
El reforzamiento del principio de identidad nacional expresa un claro sentido del control intergubernamental de la integración, aunque también supone cierta compensación a la extensión y profundización de las competencias de la UE. La definición extensa del principio y su ubicación en el art. 4 TUE, junto a los principios de igualdad y de cooperación leal, predeterminan más que principios que rigen las relaciones entre la Unión y sus Estados miembros la configuración nítida de un estatuto internacional del Estado, de un estatuto de los derechos fundamentales de los Estados miembros en el seno de la Unión. Las estructuras y opciones constitucionales básicas deben ser respetadas por el proceso político de la integración de modo que las peculiaridades fundamentales (tipo, forma, caracteres del Estado, peculiaridades lingüísticas, nacionalidad, etc.) sean tenidas en cuenta o encontrar parámetros de proporcionalidad entre aquellas y los desarrollos normativos de la integración. En ese justo equilibrio, esas peculiaridades no pueden ser una coartada para no respetar las obligaciones adquiridas. El principio de indiferencia o neutralidad respecto de la organización de los poderes públicos nacionales no debe ser entendido como un irrestricto principio de no injerencia en los asuntos internos de los Estados pues el Derecho de la Unión penetra y condiciona todo el tejido jurídico, económico y social de sus Estados miembros. El Estado dispone libremente de su territorio y provee bajo su responsabilidad a su defensa; pero la seguridad no supone una reserva general que excluya del ámbito de aplicación del Derecho comunitario cualquier medida adoptada por motivos de seguridad pública. En definitiva, el orden comunitario jamás será un impedimento para que en los casos necesarios el Estado recurra a todos los medios jurídicos que permite el Estado de Derecho para su autoconservación y para decidir libremente sobre su convivencia en paz y su futuro. El Tribunal de Justicia ya ha resuelto un buen número de casos en los que se alegaba respeto a la identidad nacional frente a normas europeas o se reclamaban excepciones a las obligaciones comunitarias basadas en la seguridad nacional.
The reinforcement of the principle of national identity expresses a clear sense of intergovernmental control on integration, although this implies a certain compensation for the extension and depth of EU competences. The wide definition of this principle and its place in Art. 4 TEU, together with the principles of equality and loyal cooperation, predetermine, more than principles that govern relations between the European Union and its member states, the tight configuration of an international statute of the State, of a statute on fundamental rights of the member States within the European Union. The basic constitutional structures and options have to be respected through the integration process so that the fundamental differences (type, form, nature of the State, linguistic differences, nationality, etc.) or parameters of proportionality found among them and policy development on integration are kept in mind. In this fair balance, these differences cannot be an excuse to not respect the obligations undertaken. The principle of indifference or neutrality with respect to the organization of national public authorities should not be understood as an unrestricted principle of non–interference in the internal affairs of the States since European Union Law pervades and conditions the legal, economic and social fabric of its member States. The State freely disposes of its territory and provides defense; but security does not imply a general reserve which excludes from the scope of the application of European Law any measure adopted for reasons of national security. In short, an EU mandate will never be an impediment for the State, where necessary, to appeal to all the legal measures that the State of Law allows for its self– preservation and to freely decide on its peaceful coexistence and its future. The Court has already resolved a number of cases on respect for national identity against European regulations or exceptions to European obligations based on national security.
UCM subjects
Administración regional
,
Gobiernos
,
Jefes de Estado
,
Organismos internacionales
,
Relaciones internacionales
,
Derecho comunitario (Unión Europea)
,
Derecho constitucional
,
Derecho internacional público
,
Instituciones comunitarias (Derecho)
,
Países miembros de la Unión Europea (Derecho)
,
Unión Europea (Derecho)
Unesco subjects
5909.05 Instituciones Regionales
,
5103.01 Jefatura y Realeza
,
5901.02 Organizaciones Internacionales
,
5901 Relaciones Internacionales
,
5605.04 Derecho Constitucional
,
5603 Derecho Internacional
Collections