Publication:
Los estados fallidos y el estado social y democrático de derecho en los países de América Latina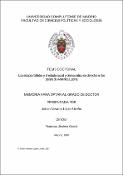 Files
Authors
Advisors (or tutors)
Editors
Publisher
Universidad Complutense de Madrid
Abstract
En el año 2005 la revista Foreing Policy y la Fund For Peace publicaron un informe en lacual constaban 76 Estados que eran considerados como fallidos, en el que había doscategorías; Estados en alerta, que eran países que no cumplían con las funcionesesenciales de los Estados, y en los cuales existía una completa anarquía; y, los Estados enpeligro, que eran Estados que estaban al borde de ser considerados en alerta, los cualesmostraban un gran deterioro en sus instituciones. Dentro de esos Estados evaluados seencontraban algunos países de América Latina que a todas luces se mostraban endesacuerdo entre los resultados del informe y la realidad que presentaban dichos países,lo que trajo indignación entre algunos líderes políticos de la región. A raíz de ello eldebate de los Estados fallidos se trasladó al terreno de los Estados de Latinoamérica,puesto que los mismos, aunque con excepciones, se habían centrado primordialmente enlos países de África, y algunos que otros Estados que podían albergar células terroristas.Desde finales de los 80 y principios de los 90, los órganos de seguridad de los EstadosUnidos comenzaron a mostrar más preocupación por aquellos Estados que en el procesode descolonización habían logrado obtener su independencia, pero que sin embargo nohabían podido seguir el buen funcionamiento del Estado, los cuales podían convertirse enfocos de inseguridad para los Estados vecinos...
In 2005, the Foreign Policy magazine as well as Fund For Peace Organization publisheda document where 76 states where pointed as "failed". Those states were settled in twocategories. In one hand, there was States on Alert, where the countries did not fulfill theessential functions to become a "state". On the other hand, States in Danger compoundedby those countries that were in the line to collapse, showing significant institutionalweaknesses.Among the states evaluated, there were several Latin-American countries that showedtheir disagreement related to the results provided by the previously listed document. Pertheir belief, the results were far from the actual reality faced by those countries. Thissituation become aggravated by the discomfort showed by political leaders of the region,since the failed states debate was pointing Latin-American countries. Primarily, thisdebate was centered in discussing the reality of African countries, and some othercountries outside that region that could exhibit terrorist cells. However, since it includedthe countries in Latin-America, the whole scenario changed as well as the reception ofthose results...
Description
Tesis de la Universidad Complutense de Madrid, Facultad de Ciencias Políticas y Sociología, leída el 08-06-2017
Collections