Publication:
El paciente geriátrico y su relación con la farmacoterapia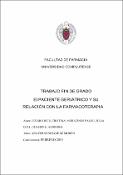 Advisors (or tutors)
Editors
Abstract
En nuestro país los mayores de 65 años suponen un 17% de la población, porcentaje que va en aumento. Consecuencia de esto es la prevalencia de enfermedades crónicas que suponen un incremento del gasto sanitario y un desafío para el Sistema Nacional de Salud. En el presente trabajo se analizarán los principales cambios fisiológicos, farmacocinéticos y farmacodinámicos, de este colectivo, así como los principales problemas relacionados con los medicamentos (PRM), entre los que se incluyen las reacciones adversas e interacciones. Por último, se expondrán las principales herramientas que tenemos a nuestro alcance para atajar los problemas de prescripción inadecuada y omisión de fármacos. Se hace difícil abarcar este problema, debido a la heterogeneidad de este grupo y a la falta de inclusión en ensayos clínicos. Se ha demostrado que trabajar de manera coordinada para disminuir la aparición de estos problemas, que además supone una reducción considerable del gasto y, por lo tanto, un beneficio para la comunidad.
In our country elderly people aged over 65 represent 17% of the population. This percentage is increasing. The prevalence of chronic illnesses suppose an increase of the sanitary spending and a challenge for de National Sanitary System. In the present project we will analyze the main fhysiological changes, both pharmacokinetic and pharmacodynamic of this group, as well as Drug Therapy problems (DTP), in which adverse reactions and interactions are included. At the end, we will expose the main tools we have to stop the Potentially Inappropriate Medication and drugs omission.It is difficult to cover this problem due to the elderly heterogeneity and the lack of inclusion in clinical trials. It has been proved, that working cooperatively decreases the development of these problems. They suppose a reduction of the spending and therefore a benefit for the community.