Publication:
Estudio del metabolismo de polihidroxialcanoatos en Pseudomonas putida: implicaciones fisiológicas y aplicaciones en el desarrollo de bioplásticos funcionalizados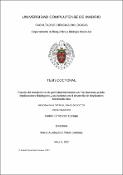 Files
Authors
Advisors (or tutors)
Editors
Publisher
Universidad Complutense de Madrid
Abstract
En esta Tesis Doctoral se ha analizado el metabolismo de polihidroxialcanoatos en Pseudomonas putida, así como sus aplicaciones biotecnológicas en el desarrollo de bioplásticos funcionalizados de segunda generación. Se ha estudiado la interrelación entre el metabolismo específico de los PHA y el metabolismo global en Pseudomonas putida KT2440, profundizando en el papel fisiológico de los PHA mediante el análisis del impacto que la producción de este tipo de biopolímeros tiene sobre los flujos metabólicos y la expresión génica. Se ha visto que en las bacterias productoras naturales de PHA éste juega un papel crucial en el mantenimiento del balance de carbono y energía de la célula. Asimismo, se ha puesto de manifiesto que la canalización de intermediarios metabólicos hacia la producción de PHA es una respuesta fisiológica que depende del tipo de sustrato empleado. Se ha puesto en evidencia que la producción de PHA implica un complejo sistema de regulación coordinado con la regulación específica y global del metabolismo central del carbono. De manera complementaria se han abordado distintas aproximaciones enfocadas a mejorar la producción industrial de los PHA. Se ha desarrollado una nueva familia de PHA funcionalizados (con grupos tioéster en la cadena lateral) que suponen un valor añadido a los biopolímeros convencionales, lo que relativiza el coste de producción en relación al precio final del producto. Además, se ha desarrollado una cepa de P. putida KT2440 capaz de producir PHA de manera más eficaz a partir de glicerol, residuo de la producción de biodiesel, y por tanto una fuente de carbono barata. [ABTRACT]PHAs are storage polymers accumulated as granules in the cytoplasm of many bacteria under unbalanced nutritional conditions. These biodegradable and biocompatible polyesters are completely produced by living organisms and have thermoplastic properties (bioplastics). This work is focused in the interplay between the specific metabolic routes of PHA synthesis and degradation, and the global metabolism in P. putida KT2440. We have tried to understand the physiological implications of this polymer and its impact over global metabolic fluxes and gene expression networks. We have suggested that, in this naturally PHA producing bacterium, the PHA plays an energetic buffering role adapting important physiological processes and controlling carbon and energy balance. Furthermore, we have studied the different metabolic pathways involved in PHA production, depending on the carbon source, and observed how PHA metabolism regulation is connected with the regulatory networks driving the main carbon pathways in this bacterium. This knowledge has contributed to the improvement of PHA industrial production and has allowed the development of two industrial patents. We have defined a new family of functionalized PHA with thioester groups (PHACOS) in the side chain. These value-added materials allow new applications of PHA in emergent fields such as biomedicine (e.g. implant materials, drug delivery systems). Finally, we have designed a P. putida mutant strain that allows a faster growth and higher PHA accumulation using a low-cost industrial residue (glycerol) as substrate.
Description
Tesis inédita de la Universidad Complutense de Madrid, Facultad de Ciencias Biológicas, Departamento de Bioquímica y Biología Molecular, leída el 11/05/2012
Collections