Publication:
Movimiento fundacional de instituciones religiosas femeninas españolas en el siglo XIX. Pervivencias y cambios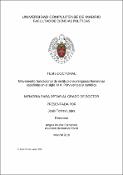 Authors
Editors
Publisher
Universidad Complutense de Madrid
Abstract
Esta tesis se propone reconstruir el movimiento congregacional femenino desarrollado en suelo español durante el periodo que discurre entre 1788 y 1930. Se acomete una reconstrucción de la cartografía fundamental de las fundaciones llevadas a cabo en este tiempo y espacio, atendiendo a las siguientes variables: quiénes fundan, qué fundan, dónde, cuándo y con qué finalidad. La tesis se organiza en cuatro capítulos en los que se aborda, la cartografía de las fundaciones en cifras, los perfiles sociales y biográficos de las fundadoras, la orientación funcional de las nuevas congregaciones y los modelos de identidad, cuestión que se indaga a través de los marcos jurídicos por los que se regulan, los hábitos religiosos y los referentes que se sirvieron para tomar nombre las congregaciones.Como resultado, se han censado y estudiado noventa y cinco congregaciones femeninas, de las cuales cincuenta y dos fueron fundadas exclusivamente por mujeres (55%); veintisiete fundadas por hombres (28%) y dieciséis fundadas entre mujeres y hombres (17%). Si bien la actividad de todas estas instituciones fue desarrollada solamente por mujeres. En términos sociológicos esta tesis doctoral demuestra el carácter interclasista del colectivo formado por las promotoras de nuevas congregaciones, entre las que hubo mujeres procedentes de la burguesía, de la aristocracia, así como otras de clase obrera y del campesinado. Junto a ellas se implicó un amplio número de mujeres invisibilizadas...
This thesis proposes the reconstruction of the feminine congregational movement developed in Spain between 1788 and 1930. Through this paper, a deep description of the Women Religious Foundation is carried out attending to the following variables: whom founded, what they founded, where, when and for what purpose. This thesis is organized into four chapters and go through the map of the foundations by 3 ways: by figures, by the social and biographical profiles of the founders, by the functional orientation of the new congregations and finally by the identity models. The latest is an issue that is investigated through the legal frameworks by which they are regulated, the religious habits and the referents that were used to take the name of the congregations.As a result, ninety-five female congregations have been counted and studied, of which fifty-two were founded exclusively by women (55%); twenty-seven founded by men (28%) and sixteen founded by women and men (17%), although the activity of all these institutions was developed only by women. From a sociological point of view, this doctoral thesis demonstrates the fact that founders of new religious orders came from diferent social clases as the bourgeoisie, the aristocracy, the working class and the peasantry. Together with them, a large number of invisible women were involved...
Description
Tesis de la Universidad Complutense de Madrid, Facultad de Ciencias Políticas y Sociología, leída el 19-12-2018
Collections