Publication:
From polarization multipoles to higher-order coherences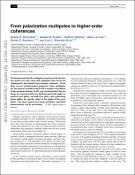 Advisors (or tutors)
Editors
Publisher
Optical society of america
Abstract
We demonstrate that the multipoles associated with the density matrix are truly observable quantities that can be unambiguously determined from intensity moments. Given their correct transformation properties, these multipoles are the natural variables to deal with a number of problems in the quantum domain. In the case of polarization, the moments are measured after the light has passed through two quarter-wave plates, one half-wave plate, and a polarizing beam splitter for specific values of the angles of the wave plates. For more general two-mode problems, equivalent measurements can be performed. (C) 2022 Optical Society of America
Description
© Copyright 2022 Optica Publishing Group. Natural Sciences and Engineering Research Council of Canada; Consejo Nacional de Ciencia y Tecnología (254127); Air Force Office of Scientific Research (FA9550-20-1-0366); Welch Foundation (A-1943); Horizon 2020 Framework Programme (ApresSF, Sturmytune); Ministerio de Ciencia, Innovación y Universidades (PGC2018-099183-B-I00).
Collections