Publication:
Sentence Repetition Tasks to Detect and Prevent Language Difficulties: A Scoping Review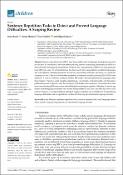 Advisors (or tutors)
Editors
Abstract
Sentence repetition tasks (SRTs) have been widely used in language development research for decades. In recent years, there has been increasing interest in studying performance in SRTs as a clinical marker for language impairment. What are the characteristics of SRTs? For what purposes have SRTs been used? To what extent have they been used with young children, in different languages, and with different clinical populations? In order to answer these and other questions, we conducted a scoping review. Peer reviewed studies published in indexed scientific journals (2010–2021) were analyzed. A search in different databases yielded 258 studies. Research published in languages other than English or Spanish, adult samples, dissertations, case studies, artificial models, and theoretical publications were excluded. After this exclusion, 203 studies were analyzed. Our results show that most research using SRT were conducted with English monolingual speakers older than 5 years of age; studies with bilingual participants have mostly been published since 2016; and SRTs have been used with several non-typical populations. Research suggests that they are a reliable tool for identifying language difficulties and are specifically suitable for detecting developmental language disorder.
Collections