Publication:
Integrable quasiclassical deformations of algebraic curves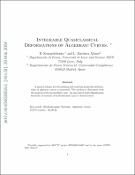 Advisors (or tutors)
Editors
Abstract
A general scheme for determining and studying integrable deformations of algebraic curves, based on the use of Lenard relations, is presented. The method is illustrated with the analysis of the hyperelliptic case. An associated multi-Hamiltonian hierarchy of systems of hydrodynamic type is characterized.
Description
©IOP Publishing. L Martinez Alonso wishes to thank the members of the Physics Department of Lecce University for their warm hospitality. This work was partially supported by DGCYT project BFM2002- 01607 and by the grant COFIN 2002 'Sintesi'.
Citation
[1] Novikov S P, Manakov S V, Pitaevski L P and Zakharov V E 1984 Theory of solitons The Inverse Scattering Method (New York: Plenum) [2] Belokolos E D, Bobenko A I, Enol'ski V Z, Its A R and Matveev V B 1994 Algebro-Geometric Approach to Nonlinear Integrable Equations (Berlin: Springer) [3] Dubrovin B and Novikov S 1989 Russ. Math. Surv. 44 35 [4] Grinevich P G and Orlov A Yu 1989 Virasoro Action on Riemann Surfaces, Grassmannians, det ∂¯ j and Segal– Wilson τ Function in Problems in Modern Quantum Field Theory ed A A Belavin, A V Klimyk and A B Zamolodchikov (Berlin: Springer) [5] Grinevich P G 1994 Nonisospectral Symmetries of the KdV Equation and the Corresponding Symmetries of the Whitham Equations in Singular Limits of Dispersive Waves (NATO ASI Series B; Physics vol 32) ed N M Ercolany et al (New York: Plenum) [6] Flaschka H, Forest M G and Mclauglin D W 1980 Commun. Pure Appl. Math. 33 739 [7] Dubrovin B A 1992 Commun. Math. Phys. 145 415 [8] Krichever I M 1988 Funct. Anal. Appl. 22 206 [9] Krichever I M 1994 Commun. Pure. Appl. Math. 47 437 [10] Krichever I M and Phong P H 1998 Simplectic Forms in the Theory of Solitons in Surveys in Differential Geometry IV ed G L Terng and K Uhlenbek (Hong Kong: International) [11] Kupershmidt B A 1990 J. Phys. A: Math. Gen. 23 871 [12] Zakharov V E 1980 Funct. Anal. Appl. 14 15 Zakharov V E 1994 Dispersionless Limit of Integrable Systems in 2+1 Dimensions in Singular Limits of Dispersive Waves (NATO ASI Series B; Physics vol 32) ed N M Ercolany et al (New York: Plenum) [13] Takasaki T and Takebe T 1992 Int. J. Mod. Phys. A 7 (Suppl. 1B) 889 Takasaki T and Takebe 1995 Rev. Math. Phys. 7 743 [14] Kodama Y 1988 Prog. Theor. Phys. Suppl. 95 184 Kodama Y 1988 Phys. Lett. A 129 223 [15] Kodama Y and Gibbons J 1989 Phys. Lett. A 135 167 [16] Mineev-Weinstein M, Wiegmann P B and Zabrodin A 2000 Phys. Rev. Lett. 84 5106. [17] Fairlie D B and Strachan I A B 1996 Phys. D 90 1 Fairlie D B and Strachan I A B 1996 Inverse Probl. 12 885 [18] Strachan I A B 1999 J. Math. Phys. 40 5058 [19] Kodama Y and Konopelchenko B G 2002 J. Phys. A: Math. Gen. 35 L489–L500 Kodama Y and Konopelchenko B G 2003 Deformations of Plane Algebraic Curves and Integrable Systems of Hydrodynamic Type in Nonlinear Physics: Theory and Experiment II ed M J Ablowitz et al (Singapore: World Scientific) [20] Ferapontov E V and Pavlov M V 1991 Phys. D 52 211 [21] Gibbons J and Tsarev S P 1996 Phys. Lett. A 211 19 Gibbons J and Tsarev S P 1999 Phys. ett. A 258 263 [22] Mañas M, Martinez Alonso L and Medina E 2002 J. Phys. A : Math. Gen. 35 401 [23] Kokotov A and Korotkin D 2004 A new hierarchy of integrable systems associated to Hurwitz spaces Preprint math-ph/0112051 [24] Manas M, Martinez Alonso L and Medina E 1997 J. Phys. A: Math. Gen. 40 4815 [25] Gelfand I M and Dikii L A 1976 Funkts. Anal. Prilozen. 10 13 Gelfand I M and Dikii L A 1977 Funkts. Anal. Prilozen. 11 11 Gelfand I M and Dikii L A 1978 Funkts. Anal. Prilozen. 12 8 [26] Abhyankar S S 1990 Algebraic Geometry for Scientists and Engineers (Mathematical Surveys and Monograps vol 35) (Providence, RI: American Mathematical Society) [27] Walker R Y 1978 Algebraic Curves (Berlin: Springer) [28] Farkas H M and Kra I 1980 Riemann Surfaces (Berlin: Springer) [29] Kostrikin A I 1982 Introduction to Algebra (Berlin: Springer) [30] Macdonald I G 1979 Symmetric Functions and Hall Polynomials (Oxford: Clarendon) [31] Konopelchenko B G and Dubrosky V G 1984 Ann. Phys. 156 265 [32] Kurosh A G 1972 Higher Algebra (Moscow: Mir) [33] Reyman A G and Semenov-Tian-shansky M A 1988 Phys. Lett. A 130 456 [34] Fordy A P, Reyman A G and Semenov-Tian-shansky M A 1989 Lett. Math. Phys. 17 25
Collections