Publication:
Diseño de una propuesta educativa a través de la implantación de metodologías activas en Educación Primaria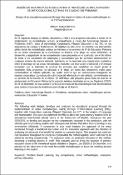 Authors
Advisors (or tutors)
Editors
Abstract
En el siguiente trabajo se diseña, desarrolla y valora una propuesta educativa a través de la implantación de metodologías activas; principalmente a través del Aprendizaje Basado en Problemas (ABP), junto al Aprendizaje Cooperativo, Flipped Classroom y las TIC, en las asignaturas de Lengua y Matemáticas. El objetivo ha sido poner en práctica una intervención piloto donde las metodologías activas permitieran a los alumnos de 6º de Educación Primaria de un centro concertado de la Comunidad de Madrid, a lo largo del curso 2020/2021, el desarrollo y adquisición de las competencias clave propuestas en el currículo, con el fin último de dotar a los estudiantes de estrategias y capacidades que les permitan desenvolverse en cualquier entorno de manera eficiente. Asimismo, se ha realizado una comparación cualitativa entre el abordaje de las áreas mencionadas mediante una instrucción tradicional y el enfoque innovador con la intención de analizar los procesos que benefician en mayor grado al estudiante. Esta propuesta ha utilizado a lo largo del curso dos situaciones reales para contextualizar el método aplicado, las cuales tuvieron que ser solucionadas trabajando de manera cooperativa. La evaluación cobró especial relevancia en este método, convirtiéndose en un proceso de formación en sí mismo. En definitiva, este proyecto piloto trata de acercar al profesorado de Educación Primaria los aspectos teóricos detallados en la Ley Orgánica 3/2020, de 29 de diciembre, en una puesta en práctica en el aula de las metodologías más favorecedoras para centrar el proceso de enseñanza aprendizaje en el alumno.
The following work designs, develops and evaluates an educational proposal through the implementation of active methodologies, mainly through Problem-Based Learning (PBL), together with Cooperative Learning, Flipped Classroom and ICT, in the subjects of Language and Mathematics. The aim is to implement the PBL to allow 6th grade primary students from an educational state-funded private centre in the Community of Madrid, throughout the year 2020/2021, to develop and acquire the key competencies proposed in the curriculum, with the ultimate goal of providing students with strategies and abilities that allow them to develop in any environment efficiently. A comparison is also made between the approach of the areas mentioned through a traditional instruction and the innovative approach with the intention of analysing the processes that benefit the student to a greater degree. This proposal has used two real situations throughout the course to contextualise the method applied, which will need to be solved by working cooperatively. The evaluation takes on particular relevance in this method, becoming a training process in itself. This research aims to bring the teachers of primary education closer to the theoretical aspects detailed in Organic Law 3/2020 of 29 December, in a practice in the classroom of the most favourable methodologies to focus the teaching process learning on the student.