Publication:
El pensamiento de Slavoj Zizek en el contexto literario-artístico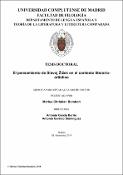 Files
Authors
Advisors (or tutors)
Editors
Publisher
Universidad Complutense de Madrid
Abstract
A lo largo de las últimas dos décadas, el filósofo y psicoanalista esloveno Slavoj Žižek (Liubliana, 1949) se ha ido convirtiendo en una de las figuras más notorias, reconocidas y potentes en el horizonte de la filosofía continental del presente. Sus intereses teóricos abarcan un amplísimo conjunto de materias, desde asuntos políticos —muy frecuentemente incardinados en la tradición marxista de la Economía— y cuestiones de 'pensamiento puro' hasta los pormenores del psicoanálisis lacaniano, la ecología y la crítica cultural en todas sus vertientes. En virtud de esa profusión temática y de la elevada plasticidad que ostenta su obra, las referencias a la misma abundan en muchas de las disciplinas humanísticas y sociales, si bien el nivel de comprensión en profundidad que demuestran sus exégetas suele variar considerablemente. En particular resulta llamativa sobre la recepción de Žižek la asimetría detectable entre la acrecentada presencia de sus ideas en numerosos ámbitos académicos por un lado, y la relativa escasez de acercamientos exegético-críticos comprometidos con la elaboración de una revisión crítica de sus posturas específicas con respecto a diferentes temáticas por el otro. La presente tesis doctoral toma esta última constatación como punto de partida, al afrontar el pensamiento de Žižek bajo la óptica de la Teoría literaria y artística, con el propósito de identificar, examinar y ponderar los contenidos doctrinales más significativos en ese campo. Como acabamos de señalar, el análisis y la crítica cultural constituyen una parte no desdeñable de la filosofía de Žižek; sus razonamientos al respecto y las distintas vías de acceso empleadas por él para aproximarse a artefactos y manifestaciones culturales, sin embargo, se caracterizan ante todo por una pronunciada heterogeneidad. En razón de ese carácter heterogéneo, el pensamiento de Žižek sobre lo literario y artístico —en el que se ve reflejado, por lo demás, su modus operandi global igualmente asociativo y poco consistente— se beneficia sustancialmente (o hasta precisa) de una sistematización crítica como la que proyectamos nosotros, reuniendo y evaluando de forma conjunta sus aportaciones más relevantes...
In recent years, the philosopher and psychoanalyst Slavoj Žižek (Ljubljana, 1949) has become one of the most well-known, renowned and potent figures on the horizon of contemporary continental philosophy. His interests comprise a wide range of subject matters, from political topics—often intertwined, in Marxist tradition, with the sphere of economics—and questions of 'pure thought' to the inner workings of Lacanian psychoanalysis, ecological issues or cultural criticism in its many facets. By virtue of this abundance of themes and its high level of plasticity, Žižek's thought has become somewhat of an obligatory reference for many scholars pertaining to an ever-growing number of academic fields, with the level of interaction with his doctrines ranging from nonchalant allusions to more in-depth and weighty examinations of his thought. What results particularly striking about the general reception of Žižek's work, however, is an asymmetry that can be observed between the outstanding presence of his ideas in numerous academic fields on the one hand, and the relatively scarce number of interpretative approaches that strive to elaborate critical synopses of Žižek's views and positions on specific themes or subjects on the other. The present dissertation takes this observation as its point of departure, as it approaches Žižek's philosophy through the lens of literary and artistic theory, striving to identify and examine its most significant contributions in this field. Cultural analysis and criticism make up a considerable portion of Žižek's thought; his musings on these matters and the different means of access he employs, however, are of a pronouncedly heterogeneous nature. As a consequence of this heterogeneity, Žižek's considerations on literary and artistic matters may benefit substantially from a critical systematization that unites and jointly evaluates his most relevant contributions to the field...
Description
Tesis de la Universidad Complutense de Madrid, Facultad de Filología, Departamento de Lengua Española y Teoría de la Literatura y Literatura Comparada, leída el 13/12/2018
Collections