Publication:
Desintegración β del 8B a los estados excitados del 8Be: contribuciones en mezcla de isospín y halo de protón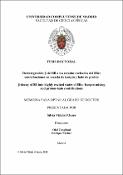 Authors
Advisors (or tutors)
Editors
Publisher
Universidad Complutense de Madrid
Abstract
La desintegración del núcleo halo de protón 8B en 8Be se ha estudiado en detalle en diversos experimentos durante las últimas décadas. En el marco de esta tesis, realizamos un experimento en 2016 en ISOLDE@CERN con el objetivo de determinar la intensidad para las desintegraciones a los estados excitados del 8Be. De particular interés es el doblete 2+ a 16.6 y 16.9 MeV, el cual se supone, basado en estudios de reacciones, que presenta una mezcla total de isospín T=0 y T=1. Siendo éste el único caso conocido con una mezcla máxima de isospín. La desintegración es el único mecanismo por el cual se pueden estudiar ambos isospines de los estados del doblete y, hasta ahora, no ha sido medida. El segundo objetivo es determinar la razón de ramificación dela emisión de protones retardada poblada por captura electrónica, que no habíasido observada hasta ahora. Dicho canal de desintegración se espera que ocurra a través del estado de 17.6 MeV y la estimación de su razón de ramificación está basada en la estructura de halo del 8B...
This thesis work deals with the study of the decay of the proton-halo nucleus8B. The data were obtained in an experiment performed at ISOLDE@CERN.The goal of this study is to determine the -strength to highly excited states of8Be. Of particular interest is the isospin mixing of the 2+ doublet at 16.6 and16.9 MeV excitation energy. The -decay process is the only one that allowsto simultaneously address the two isospin components of the states (T=1 andT=0). This has not been measured before. Also, the second objective is theso far unobserved electron-capture delayed-proton-emission branch expected toproceed via the 17.6 MeV state. The states of interest are unbound. After the -decay: the doublet in 8Be breaks up into two and the 17.6 MeV state in8Be preferentially decays via proton emission to 7Li...
Description
Tesis inédita de la Universidad Complutense de Madrid, Facultad de Ciencias Físicas, leída el 11-12-2020
Collections