Publication:
La aspirina modifica en los megacariocitos las propiedades pre-apoptóticas de las plaquetas de novo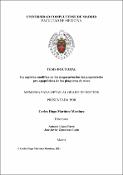 Files
Advisors (or tutors)
Editors
Publisher
Universidad Complutense de Madrid
Abstract
El tratamiento crónico con dosis bajas de ácido acetilsalicílico (se utilizará en todo el texto indistintamente el término Aspirina o su abreviación ASA), entre 100-300 mg/día, es primera elección en la prevención de eventos vasculares trombóticos agudos. Sin embargo en, un número importante de pacientes tratados diariamente con ASA, sus plaquetas no son completamente inhibidas. Este efecto se conoce como síndrome de resistencia plaquetaria a la ASA. El síndrome plaquetario de resistencia a la ASA se calcula que ocurre en el 20% de la población general tratada con ASA y hasta en un 40% de población de pacientes diabéticos. Se ha especulado diferentes mecanismos implicados en el síndrome de resistencia plaquetaria a ASA entre los que se incluye la no adherencia al tratamiento, la administración previa de AINES, la existencia de una isoforma diferente de ciclooxigenasa, la ciclooxigenasa-2, en las plaquetas, la falta de capacidad de las plaquetas resistentes a ASA y/o de los leucocitos de los pacientes con plaquetas resistentes a ASA de generar óxido nítrico etc...
Chronic treatment with low doses of acetylsalicylic acid (the term Aspirin or its abbreviation ASA will be used interchangeably throughout the text). Between 100-300 mg/day ASA doses, is used in the prevention of acute thrombotic vascular events. However, in a significant number of patients treated daily with ASA, their platelets are not completely inhibited. This effect is known as platelet resistance syndrome to ASA. Platelet ASA resistance syndrome is estimated to occur in 20% of the general population treated with ASA and up to 40% of the diabetic patient population. Different mechanisms involved in platelet resistance syndrome to ASA have been speculated, including non-adherence to treatment, prior administration of NSAIDs, the existence of a different isoform of cyclooxygenase, cyclooxygenase-2, in platelets, lack of ability of ASA-resistant platelets and / or leukocytes of patients with ASA-resistant platelets to generate nitric oxide etc...
Description
Tesis inédita de la Universidad Complutense de Madrid, Facultad de Medicina, leída el 08-07-2021
Collections