Publication:
La conquista del silencio : ontología y cosmología en los cantos chamánicos de sanación mayas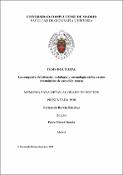 Files
Authors
Advisors (or tutors)
Editors
Publisher
Universidad Complutense de Madrid
Abstract
El objeto específico de este estudio son los cantos chamánicos de sanación mayas. Estos cantos son una manifestación especialmente sofisticada del lenguaje ritual que tradicionalmente ha sido enmarcada, dentro de los géneros del habla mayas, como parte del "lenguaje puro" o las "palabras antiguas". Los estudios etnográficos, etnohistóricos e históricos, han prestado hasta la fecha mucha menos atención a los cantos chamánicos de la que han recibido mitos, leyendas, cuentos, etc.; es decir, lo que podríamos denominar textos de carácter narrativo. Y cuando les han prestado atención lo han hecho abordándolos como textos literarios, realizando un análisis formal de los mismos, de las figuras que emplean y de sus aspectos compositivos. O como un elemento litúrgico más del ritual de sanación. Estos trabajos toman la figura del chamán como autor de los cantos, y a estos como una expresión especialmente elaborada de la poética y literatura indígenas. El punto de partida de esta investigación es completamente distinto, en vez de afrontar el estudio de los cantos chamánicos desde una perspectiva litúrgica, literaria o textual, lo que se plantea es el estudio de los cantos como sujetos con agencia, como un espíritu con intencionalidad y capacidad para hacer cosas que se manifiesta en el ritual de sanación a través de la figura del chamán. Para ello nos serviremos del análisis de materiales obtenidos por otros etnógrafos, filólogos e historiadores especialistas en el área maya, especialmente de la región de Los Altos de Chiapas (México)...
The specific subject of this study is Maya shamanic healing chants. These chants are a particularly sophisticated manifestation of ritual language that has traditionally been framed, within the Mayan speech genres, as part of the "pure language" or "ancient words".Ethnographic, ethnohistorical and historical studies have so far paid much less attention to shamanic chants than they have to myths, legends, tales, etc.; that is, what we could call narrative texts. And when attention has been paid to them, they have been approached as literary texts, making a formal analysis of them, of the literary figures they employ and of their compositional aspects. Or as another liturgical element of the healing ritual. These works take the figure of the shaman as the author of the chants, and these as a specially elaborated expression of indigenous poetics and literature.The starting point of this research is completely different, instead of approaching the study of shamanic chants from a liturgical, literary or textual perspective, what is proposed is the study of the chants as subjects with agency, as a spirit with intentionality and capacity to do things that manifests itself in the healing ritual through the figure of the shaman. For this purpose, we will use the analysis of materials obtained by other ethnographers, philologists and historians specialized in the Maya area, especially in the region of Los Altos de Chiapas (Mexico)...
Description
Tesis inédita de la Universidad Complutense de Madrid, Facultad de Geografía e Historia, leída el 16-12-2022
Collections