Publication:
Juan Pío Pérez Bermón: vida y obra de un ilustrado yucateco del siglo XIX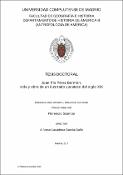 Authors
Advisors (or tutors)
Editors
Publisher
Universidad Complutense de Madrid
Abstract
Juan Pío Pérez Bermón (1798-859) fue un importante ilustrado, político y hacendado yucateco que vivió en un contexto político y cultural complejo que marcó su vida y su obra. Conocido principalmente por la elaboración de su Diccionario de la lengua maya y la compilación del llamado Códice Pérez, sin embargo, su obra es mucho más amplia y variada y nunca había sido estudiada de forma conjunta. Esta investigación, por un lado, indaga en la personalidad de Juan Pío Pérez, dejando atrás la visión idealizada y sesgada de la que adolecieron sus biografías decimonónicas y que ha perdurado hasta nuestros días, buscando comprender al personaje en su contexto histórico y con sus motivaciones personales. Junto a esto, se presenta toda la obra del autor, organizada en sus diversas facetas intelectuales. La obra y las facetas de Pérez fueron analizadas contextualizando en todo momento al autor en la época convulsa y compleja en la que su labor se llevó a cabo. El objetivo último de esta tesis es poder comprender a fondo a Juan Pío Pérez y a su obra, poniendo en valor sus aportes a la mayística y señalando aquellos nuevos enfoques que pueden contribuir al avance de los estudios de la cultura maya en el futuro. Para conseguir estos objetivos, se hizo, en primer lugar, un profundo rastreo de archivo en su país de origen, México, así como en su ciudad natal, Mérida, en el Estado de Yucatán. De la información allí encontrada, llamó la atención la gran variedad de materiales, de diferentes temáticas, que Pérez había trabajado, muchos de los cuales no eran conocidos hasta el momento...
Juan Pío Pérez (1798-1859) was an important Yucatecan enlightened politician and landowner who lived in a complex political and cultural context. Known principally for the elaboration of his Diccionario de la lengua maya and the compilation called Códice Pérez, his work is wider and assorted, and it had not been studied altogether. This investigation looks into the personality of Juan Pío Pérez leaving behind the idealized and biased view of his nineteenth century biographies. It looks for the comprehension of this personality in his historical context and an understanding of his personal motivations. The author's work is organized into his several intellectual facets taking always into consideration the tumultuous and complex context in which it was carried out. The final objective of this dissertation is to arrive at a comprehension of Juan Pío Pérez and his work, asserting the value of his contributions to Maya studies and pointing out new approaches that can contribute to their advance in the future. As a first step in reaching these objectives a profound search in Mexican archives was carried out resulting in a significant variety of materials about different subjects among the work of Pérez. In this manner, Pérez' facets as philologist and historian were defined; additionally, his interest in hieroglyphic writing and Maya calendars as well as his approach towards botany and indigenous medicine called for attention...
Description
Tesis inédita de la Universidad Complutense de Madrid, Facultad de Geografía e Historia, Departamento de Historia de América II (Antropología de América), leída el 27/01/2016
Collections