Publication:
Modelo CAPM: estimación, interpretación y contrastes para el mercado de la bolsa de Madrid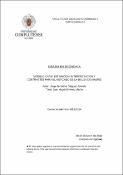 Authors
Advisors (or tutors)
Editors
Abstract
En este trabajo se contrasta el modelo CAPM (Sharpe (1963) y Lintner (1965)) para las 35 empresas del IBEX 35 en el período que va desde 1999 hasta 2014. A pesar de sus limitaciones, este modelo, que relaciona linealmente el rendimiento esperado de un título con el riesgo de mercado o riesgo sistemático, sigue siendo una importante referencia en la gestión de carteras. El modelo CAPM permite calcular la relación rentabilidad/riesgo a través del parámetro beta, medida de riesgo de gran importancia que se utiliza comúnmente en grandes corporaciones, bancos y fondos de inversión para la toma de decisiones en cuanto a posibilidades de inversión. Es conocido el hecho de los cambios que se producen en el parámetro de riesgo a lo largo del tiempo. En este artículo se analiza la estabilidad de dicho parámetro para diferentes períodos de tiempo y se comprueba que los resultados pueden llegar a diferir dependiendo del periodo escogido y que el coeficiente que mide el riesgo (riesgo beta) no se mantiene constante. Después, se hace una regresión cruzada entre las rentabilidades medias calculadas y las betas y comprobamos que para los datos de la Bolsa de Madrid se observa una clara relación negativa entre rentabilidad media y riesgo beta en cada uno de los periodos.
Description
El autor quiere agradecer expresamente las sugerencias de los miembros del tribunal de los TFG que han permitido mejorar el formato y contenido final del mismo.
Citation
Fama, Eugene F, Macbeth, James D (1973). "Risk, Return and Equilibrium: Empirical Tests", The Journal of Political Economy vol. 81, 607-636. Lintner, John (1965) "The valuation of risk assets and the selection of risky investments in stock portfolios and capital budgets", Review of Economics and Statistics. Listado de Empresas por Sectores (s.f.). Recuperado el 2 de Julio de 2014, de http://www.bolsamadrid.es/esp/aspx/Empresas/EmpresasPorSectores.aspx. Marín, José M. y Rubio, Gonzalo (2001) "Economía Financiera". Barcelona, Antonio Bosch editor, s.a. Markowitz, Harry M. (1952). "Portfolio Selection", The Journal of Finance. Mossin, Jan (1966) "Equilibrium in a Capital Asset Market", Econometrica, Vol. 34. Nieto (2004) "Evaluating mult-beta pricing models: An empirical analysis with Spanish market data", Revista de Economía Financiera, Abril 2004, 2, 80-108. Roll, Richard (1977) "A critique of the Asset Pricing Theory's tests", Journal of Financial Economics, 4, 129-176. Sharpe, William F (1964). "Capital asset prices: A theory of market equilibrium under conditions of risk", Journal of Finance. Treynor, Jack L. (1962) "Toward a Theory of Market Value of Risky Assets".