Publication:
Medidas antidumping : instrumento del neoproteccionismo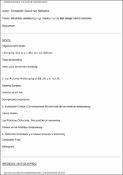 Files
Authors
Advisors (or tutors)
Editors
Publisher
Facultad de Ciencias Económicas y Empresariales. Decanato
Abstract
El objetivo fundamental de este trabajo se puede expresar fácilmente: demostrar que las medidas antidumping, que hoy en día son tan utilizadas por la Unión Europea (U.E.) y por los Estados Unidos (EE.UU.), tienen exclusivamente un fin proteccionista. Proteccionismo entendido en el sentido económico, esto es proteger a los sectores nacionales frente a la competencia extranjera, porque los primeros son menos eficientes que los segundos.
Citation
Acta Final en que se incorporan los resultados de la Ronda Uruguay de negociaciones comerciales multilaterales, 15 de Diciembre de 1993. AZCONA, José Alberto. "Los nuevos instrumentos de política comercial de la Unión Europea". ICE, Marzo de 1994, nº 2406. BIERWAGEN, Rainer M. "GATT Art. VI and the Protectionist Bias in Antidumping Laws". 1990. Studies in Transnational Economic Law. CHACHOLIADES, Miltiades. "Economía Internacional". Ed. MacGraw Hill. DeVAULT, James M. "The Efficacy of Antidumping Duties". Garland Publishing, Inc. 1993. DOMÍNGUEZ NAVARRO, Ana. "Acuerdo sobre la aplicación del Art. VI. Acuerdo Antidumping". Boletín Económico del ICE, número extraordinario. Mayo 1994. Europe Documents. 4 November 1993. nº 1858. "Legal Framework and Rationale of European Community Anti-Dumping and Anti-Subsidy Policy". FINGER, J. Michael. "Antidumping. How it works and who gets hurt". The University of Michigan Press. 1993. GARCÍA LÓPEZ, Julio A. "La Crisis del Sistema GATT y el Derecho Antidumping Comunitario". HART, Jeffrey A. "The Anti-dumping Petition of the Advanced Display Manufacturers of America: Origin and Consequences". The World Economy. Vol 16. nº 9, January 1993. KRUGMAN, Paul R. y OBSTFELD, Maurice. "Economía Internacional. Teoría y Política". Ed. MacGraw Hill. MESSERLIN, Patrick A. "The EC Antidumping Regulations: A First Economic Appraisal, 1980-85". 1989. WELTWIRTSCHAFTLICHES ARCHIV, BAN 125, HEFT 3. THARAKAN, P.K.M. "Contingent Protection: The US and the EC Anti-dumping Actions". The World Economy, Vol 16, nº 5, Sept. 1993.