Publication:
Co-liberación de agentes neuroprotectores a partir de sistemas microparticulares biodegradables: uso potencial en el tratamiento de patologías degenerativas del nervio óptico y la retina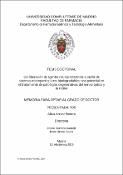 Authors
Editors
Publisher
Universidad Complutense de Madrid
Abstract
Las patologías degenerativas que afectan al nervio óptico y la retina se caracterizan por ser devastadoras y comprometer significativamente la visión.En su mayoría son crónicas y cursan con un daño progresivo del nervio óptico y la pérdida de las células ganglionares de la retina (CGR), fotorreceptores y otras células retinianas, en un proceso que se conoce como neurodegeneración. En este proceso de patogénesis se encuentran implicados numerosos mecanismos de daño tales como el estrés oxidativo, la inflamación o la disfunción mitocondrial, que actúan además interaccionando entre sí. Esto, pone de manifiesto la complejidad y naturaleza multifactorial de estas enfermedades. Una de las estrategias terapéuticas encaminadas al tratamiento de las patologías neurodegenerativas es la neuroprotección, la cual se centra en prevenir, limitar, y en algunos casos revertir, la degeneración o muerte de las células neuronales. Además, dado que estas patologías presentan una etiología multifactorial, una actuación neuroprotectora múltiple con diversos agentes activos dirigidos frente a uno o varios mecanismos implicados en la patogénesis resulta sumamente interesante. Este enfoque terapéutico es lo que se conoce como terapia combinada o terapia de combinación...
Degenerative pathologies affecting optic nerve and retina are characterized by gradual degeneration of neuronal tissue and significantly compromise the vision. Generally, eye diseases of the posterior segment are chronic leading to progressive damage to the optic nerve and loss of retinal ganglion cells (RGCs), photoreceptors and other retinal cells in a process called neurodegeneration. Several mechanisms have been implicated in the pathogenesis of neurodegeneration, such as oxidative stress, inflammation and mitochondrial dysfunction. Moreover, these events can interact and compound, underlying the complexity and multifactorial aetiology of these ocular pathologies. New therapeutic strategies for the treatment of these conditions are being sought. One such approach is neuroprotection which is defined as a "therapeutic approach" aiming to directly prevent, hinder and, in some cases, reverse neuronal cell damage. Attributed to the potential synergistic activities of drugs with different mechanisms of action, neuroprotective strategies based ona multi-modal approach are currently receiving considerable attention. This therapeutic tool is known as combination therapy or combined therapy...
Description
Tesis de la Universidad Complutense de Madrid, Facultad de Farmacia, Departamento de Farmacia Galénica y Tecnología Alimentaria, leída el 10-04-2019
Collections