Publication:
Fresh Art Project. Edición 2013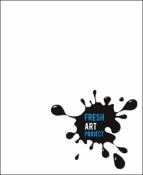 Authors
Advisors (or tutors)
Editors
Publisher
Ayuntamiento de Torrelodones
Abstract
Fresh Art Project es la marca ideada por la escultora Xana Kahle para dar visibilidad a las obras de alumnos que han cursado asignaturas de escultura, que ella imparte en la Facultad de Bellas Artes de la UCM. La selección de obras, para su posterior exposición, se realiza atendiendo a su calidad formal, técnica y conceptual. La edición celebrada en 2013 reunió 11 esculturas magníficas, de temática libre y que presentaban lenguajes plásticos de lo más diverso, realizadas en materiales o con técnicas tan diferentes como la talla en alabastro y madera, collage, metal, cerámica, fieltro etc. La muestra se celebró del 5 al 30 de abril de 2013, en la Sala Villaseñor de la Casa de Cultura de Torrelodones, Madrid.
Fresh Art Project is the brand invented by the sculptor, Xana Kahle, to give visibility to the works of art of those students whom have studied subjects of sculpture. Mrs Xana Kahle teaches subjects of sculpture at the Faculty of Fine Arts at UCM. The selection of works of art for a later exhibition is carried out by paying attention to reliable, technical and considered quality. This edition, which took place in 2013, collected 11 splendid sculptures of free subject matters, which presented most different plastic languages, carried out with materials or several skills as the sculpture of alabaster, woodcarvings, collage, metal, ceramic, felt, etc. The exhibition took place on the 3rd to the 30th of April 2013 at Sala Villaseñor in the city council of Torrelodones, Madrid.
Description
Participantes: Rafael Abad, Azahara Algar, Jose Cháfer Cruz, Patricia García, Marta García Mansilla, Ángel Martínez Puebla, Nou, Manuel Olaya, Nacho Rodríguez, Marga Sánchez, Yes.
Collections