Publication:
Efecto de la iluminación (tubos fluorescentes o LEDs) de las cámaras de cultivo sobre el cultivo in vitro de plántulas de Medicago arborea L.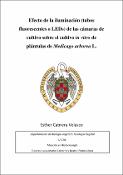 Authors
Advisors (or tutors)
Editors
Abstract
Debido a sus las propiedades, las lámparas LED (diodo emisor de luz) utilizadas para la iluminación en la producción de plantas en invernaderos y sistemas de cultivo en interiores están reemplazando a los tipos de lámparas convencionales. En este trabajo, se analizó el efecto de dos sistemas de iluminación diferentes (LEDs y fluorescentes) en cámaras de cultivo in vitro, sobre las características morfológicas y parámetros que denotan la existencia de estrés oxidativo en el cultivo de plántulas de Medicago arborea L. La tasa de germinación de semillas, la longitud, el peso fresco y seco de la parte aérea de las plántulas no se vieron afectados por el tipo de iluminación de las cámaras de cultivo. Sin embargo, la longitud y el peso fresco de las raíces sí se vieron afectados. El contenido de pigmentos fotosintéticos, los valores de eficiencia fotoquímica del PSII (Fv/Fm), la fluorescencia mínima (F0) y la fluorescencia máxima (Fm) mostraron diferencias en los dos sistemas de iluminación. Lo mismo ocurrió con los parámetros de estrés oxidativo tanto enzimáticos como no enzimáticos. Los resultados mostraron que el sistema de iluminación LED produce un estado de estrés en las plantas de M. arborea.
Due to their properties, LED (light emitting diode) lamps used for lighting in the production of greenhouse plants and indoor cultivation systems are replacing conventional lamp types. In this study, the effect of two different lighting systems (LEDs and fluorescent) in in vitro culture chambers, on the morphological characteristics and parameters that denote the existence of oxidative stress in the culture of Medicago arborea L. were evaluated. Seed germination rate, length, fresh weight and dry weight of aerial part of the seedlings were not affected by the type of lighting of the culture chambers. However, length and weight of the roots were affected. The content of photosynthetic pigments, PSII (Fv / Fm), minimum fluorescence (F0) and maximum fluorescence (Fm) values showed differences in the two lighting systems. The same happened with both enzymatic and non-enzymatic oxidative stress parameters. The results showed that the LED lighting system produces a state of stress in M. arborea plants.
Description
Grado en Biología, Mención en Biotecnología