Publication:
Development and applications of the aza-vinylogous Povarov reaction of α-ketoimines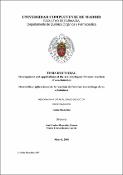 Authors
Advisors (or tutors)
Editors
Publisher
Universidad Complutense de Madrid
Abstract
Nitrogen heterocycles are one of the most interesting classes of organic molecules and the development of methods for their synthesis has long since stimulated the interest of the scientific community. 1,2,3,4-­‐Tetrahydroquinoline represents one of the most important heterocyclic moieties, being present in many natural compounds and in numerous classes of pharmacologically active agents. One of the most efficient methods for the synthesis of 1,2,3,4-­‐tetrahydroquinolines is the reverse electron-­‐demand [4+2] cycloaddition of N-­‐ arylimines and electron-­‐rich dienophiles, usually known as the Povarov reaction. This thesis is devoted to the development of a new variation of this reaction, the aza-­‐vinylogous Povarov reaction, including its organocatalytic enantioselective version, and the study of some of its applications...
Los heterociclos nitrogenados son una de las clases más interesantes de compuestos orgánicos, por lo que el desarrollo de métodos para su síntesis ha estimulado desde hace mucho tiempo el interés de la comunidad científica. La 1,2,3,4-­‐tetrahidroquinolina es una de las estructuras heterocíclicas más importantes y está presente en un gran número de productos naturales y compuestos con actividad farmacológica. Uno de los métodos más eficaces para la síntesis de 1,2,3,4-­‐tetrahidroquinolinas es la cicloadición [4+2] de demanda electrónica inversa entre N-­‐ariliminas y dienófilos de elevada densidad, conocida habitualmente como la reacción de Povarov. La finalidad de esta tesis es el desarrollo de una nueva variante de este proceso, la reacción de Povarov aza-­‐viníloga, así como una version organocatalítica enantioselectiva de la misma y el estudio de algunas de sus aplicaciones...
Description
Tesis inédita de la Universidad Complutense de Madrid, Facultad de Farmacia, Departamento de Química Orgánica y Farmacéutica, leída el 24-02-2017
Collections