Publication:
The localization of phonons in ion traps with controlled quantum disorder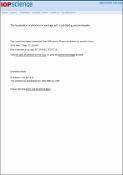 Advisors (or tutors)
Editors
Abstract
We show that the vibrations of a chain of trapped ions offer an interesting route to explore the physics of disordered quantum systems. By preparing the internal state of the ions in a quantum superposition, we show how the local vibrational energy becomes a stochastic variable, its statistical properties inherited from the underlying quantum parallelism of the internal state. We describe a minimally perturbing measurement of the resonance fluorescence, which allows us to study effects such as Anderson localization without the need for ground-state cooling or individual addressing and thus paves the way for high-temperature ion experiments.
Description
© IOP Publishing Ltd and Deutsche Physikalische Gesellschaft. We acknowledge support from EU grant PICC (Physics with Ion Coulomb Crystals), QUITEMAD S2009-ESP-1594, FIS2009-10061, CAM-UCM/910758, FPU MEC grant and RyC Y200200074. DP thanks A V Malyshev, K Singer and J Eschner for useful discussions.
Collections