Publication:
Influencia del género en la biodisponibilidad de pantoprazol administrado con alimentos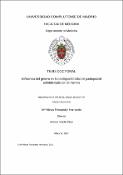 Files
Authors
Advisors (or tutors)
Editors
Publisher
Universidad Complutense de Madrid
Abstract
Pantoprazol es un fármaco perteneciente al grupo de los inhibidores de la bomba de protones que está indicado en el tratamiento de las enfermedades producidas por ácido. Pantoprazol tiene una cinética lineal en el rango de dosis de 10 mg a 80 mg, su biodisponibilidad es relativamente alta, 77%, y de acuerdo a la mayoría de los datos publicados y de la información del producto la ingesta concomitante de alimentos no influye en su área bajo la curva (AUC) ni en la concentración sérica máxima y por lo tanto no altera su biodisponibilidad Estudios de bioequivalencia La biodisponibilidad oral de un fármaco es la fracción de la dosis que alcanza la circulación sistémica en forma inalterada. La biodisponibilidad de un fármaco depende de factores fisiológicos, de factores relacionados con las características del principio activo y de factores relacionados con la formulación. El concepto de bioequivalencia se utiliza para establecer la equivalencia terapéutica de dos medicamentos mediante la comparación de su biodisponibilidad. Para asegurar que las conclusiones del estudio dependen solo de las características de los productos administrados, las condiciones del ensayo en todos los periodos del mismo deben ser similares...
Pantoprazole is a drug included in the group of proton pump inhibitors, indicated for the treatment of diseases produced by acid. Pantoprazole has linear pharmacokinetic in the range of 10 mg to 80 mg dose, the bioavailability is relatively high, 77%, and according with the data from the public domain and the approved product information, concomitant administration of food has no impact either in the area under the curve (AUC) or in the maximum plasmatic concentration, and therefore does not alter their bioavailability Bioequivalence studies Oral bioavailability is the fraction of a dose of drug that reaches the systemic circulation in an unchanged form. The bioavailability of a drug depends on physiological factors, factors related with the characteristics of the drug, and factors related with the formulation. Bioequivalence studies are used to establish the therapeutic equivalence between two drugs comparing their bioavailability. To confirm that the study results are due to the characteristics of the study drugs, the study conditions in all the periods should be similar...
Description
Tesis inédita de la Universidad Complutense de Madrid, Facultad de Medicina, Departamento de Farmacología, leída el 19/01/2016
Collections