Publication:
Zn2GeO4 micro- and nanostructures : Synthesis, characterization and study of the optical properties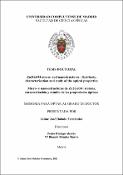 Advisors (or tutors)
Méndez Martín, Mª Bianchi
Editors
Publisher
Universidad Complutense de Madrid
Abstract
In this PhD thesis work, the results obtained from the research on micro- and nanostructuresof zinc germanate (Zn2GeO4) are shown and discussed. This material is a wide bandgapsemiconductor, member of the transparent conducting oxide (TCO) family, which presentsseveral physical properties that make it a potential candidate for its integration in differentoptoelectronic or energy storage devices.The scope of applications of Zn2GeO4 can be extended or improved by controllingthe dimensions and morphology, as well as intrinsic defects and doping with impurities.Therefore, in this work, different synthesis or growth methods were employed in orderto achieve Zn2GeO4 structures with the desired dimensions, morphologies and physicalproperties. Thus, by means of the physical growth method of thermal evaporation, usingthe vapor-solid (VS) mechanism, both elongated Zn2GeO4 micro- and nanostructures wereobtained. This method was also used to dope the Zn2GeO4 structures by diffusion, includingthe dopant impurities during the growth stage. On the other hand, Zn2GeO4 nanocrystalswere synthesized via the chemical precipitation method...
En el presente trabajo de tesis doctoral se muestran y discuten los resultados obtenidos durante la investigación realizada con micro- y nanoestructuras de germanato de zinc(Zn2GeO4). Este material es un semiconductor de gap ancho que forma parte de la familia de los óxidos conductores transparentes (TCO), y el cual presenta una serie de propiedades físicas que lo convierten en un potencial candidato para su incorporación en diversos dispositivos optoelectrónicos o de almacenamiento energético. El campo de aplicaciones del Zn2GeO4 se puede ampliar o mejorar mediante el control delas dimensiones y morfología, así como de los defectos intrínsecos y dopado con impurezas. Por ello, en este trabajo se emplearon diferentes métodos de síntesis o crecimiento, con el fin de lograr estructuras de Zn2GeO4 con las dimensiones, morfologías y propiedades físicas deseadas. Así, mediante el método de crecimiento físico de evaporación térmica, empleado el mecanismo vapor-sólido (VS), se obtuvieron tanto micro- y nanoestructuras alargadas de Zn2GeO4 como estructuras complejas. Este método fue también utilizado para doparlas estructuras de Zn2GeO4 mediante difusión, al incluir las impurezas dopantes durante la etapa de crecimiento. Por otro lado, se sintetizaron nanocristales de Zn2GeO4 a través del método de precipitación química...
Description
Tesis inédita de la Universidad Complutense de Madrid, Facultad de Ciencias Físicas, leída el 05-11-2021
Collections