Publication:
Evolución sedimentaria de la laguna de la Janda (Cádiz) durante el Holoceno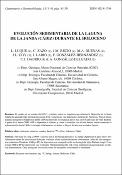 Advisors (or tutors)
Editors
Publisher
Asociación Española para el Estudio del Cuaternario y Sociedad Española de Geomorfología
Abstract
El estudio de un sondeo (JAN99-J) realizado sobre los depósitos que rellenan la Depresión de la Janda (Cadiz) ha aportado más información acerca de la evolución de esta depresión a lo largo del Holoceno. Tras el último máximo transgresivo flandriense (6500 a BP) la depresión fue inundada por el mar a través del surco de Vejer-Barbate. A partir de al menos 3800 a BP la depresión se colmata y cierra la conexión con el mar abierto, dando comienzo la sedimentación aluvial. Solo en tiempos relativamente recientes se llega a formar una verdadera laguna. [ABSTRACT] The study of a log (JAN99-1) carried out in the filling deposits of La landa Depression (Cadiz) throw new information about the more recent Holocene evolution of this ancient lacustrine environment. After the last transgressive maximum (Flandrian: 6500 yr BP) the depression was occupied by the sea through the Vejer-Barbate trough. From at least 3800 a BP the depression was eventually filled promoting the end of sea-connection and giving place to alluvial sedimentation. Only during the recentmost times the lacustrine environment is developed.
Collections