Publication:
Pensar la política desde la teología y la filosofía: Carl Schmitt y Leo Strauss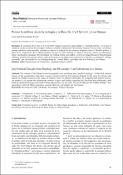 Advisors (or tutors)
Editors
Publisher
Universidad Complutense de Madrid
Abstract
El contenido de la obra de Carl Schmitt inauguró una nueva especialidad, la "teología política", en la cual se estudia la secularización de los conceptos políticos, en tanto tributarios del pensamiento religioso. En esta línea, Leo Strauss emerge asimismo como pensador centrado en rastrear el impacto de las creencias religiosas sobre la filosofía política. A partir de la comparación de los planteamientos teóricos en ambos autores, el objetivo del texto consiste en interrogarse sobre si la relación conceptual entre la religión y la política resulta inescindible, y sobre si es plausible que la filosofía pueda rebasar el umbral de la teología política, tanto en el terreno de las ideas como en el práctico. Para ello, se examina el "diálogo escondido" que, de acuerdo con las investigaciones de Heinrich Meier, se produjo entre Carl Schmitt y Leo Strauss.
The content of Carl Schmitt works inaugurated a new knowledge area, "political theology". In this field, research focuses on the secularization of political concepts, which are derived from religious thought. In this sense, Leo Strauss also appears as a thinker focused on the impact of religious beliefs on political philosophy. By comparing both authors theories, our purpose is to explore the relationship between religion and politics, regarding the feasibility that philosophy could transcend political theology in the field of ideas and practices. On this issue, the article addresses the "hidden dialogue" that, according to Heinrich Meier researches, occurred between Carl Schmitt and Leo Strauss.
Collections