Publication:
Françoise Héritier: etnóloga, antropóloga social y defensora de la causa de las mujeres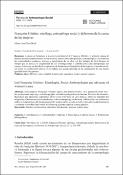 Advisors (or tutors)
Editors
Publisher
Universidad Complutense de Madrid
Abstract
A modo de homenaje a la carrera profesional de Françoise Héritier, el artículo repasa de manera necesariamente escueta su trayectoria y aportaciones etnográficas y antropológicas. Se enfatizan las continuidades temáticas, teóricas y epistémicas de su obra con los trabajos de Lévi-Strauss, al tiempo que se destaca la originalidad de sus investigaciones y contribución a una antropología del cuerpo. Asimismo, se aborda el compromiso de la autora con la posición de la mujer en el mundo social, así como su colaboración activa en un trabajo que pueda redundar en la consecución de una mayor igualdad entre los géneros.
As homage to Françoise Héritier's career, this article reviews –in a necessarily brief way– her professional trajectory, and ethnographic and anthropological contributions. We stress the thematic, theoretical and epistemic continuities of her work with those of Lévi-Strauss, while we highlight the originality of her research and contribution to the anthropology of the body. Additionally, we underscore author's compromise with the position of the woman in the society as well as her active collaboration in a scholarly work that could result in achieving a greater equality among genders.
Collections