Publication:
Estudio de anfetamina y derivados en los decomisos ilícitos incautados en la comunidad autónoma de Castilla y León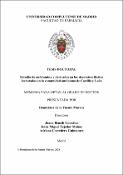 Authors
Advisors (or tutors)
Editors
Publisher
Universidad Complutense de Madrid
Abstract
La población consumidora de psicoestimulantes tipo anfetamínico (ATS), frecuenta los festivales de música electrónica, donde el consumo recreativo de las mismas ha experimentado un alza en los últimos años. Esto unido a la aparición de foros, sobre el consumo, junto con el creciente mercado de la darknet juega un papel fundamental en la alta disponibilidad de estas sustancias. El problema de salud pública que origina el consumo y tráfico de las ATS, no solo abarca los efectos tóxicos de las sustancias ilícitas en sí, sino también por la toxicidad de las propias sustancias de corte. El conocimiento de la pureza y adulterantes de mercado de la calle, aporta información toxicológica de relevancia de esta Comunidad Autónoma. La determinación de la pureza y los adulterantes no constituye una práctica analítica rutinaria del laboratorio de Sanidad, siendo realizadas expresamente para este estudio...
The amphetamine-type substances (ATS) consumers usually attend electronic music festivals where recreational use has increased in recent years. Furthermore, the appearance of forums on consumption and the growing darknet market, plays a fundamental role in high accessibility of these substances.The public health problem caused by the consumption and traffic of ATS is due not only to the toxic effects of the illicit substances themselves but also to the toxicity of the adulterants. Knowledge about purity and adulterants is toxicology essential information for this Autonomous Community. This study gives information about the profiling of the substances, as the routine work of the laboratory did not...
Description
Tesis inédita de la Universidad Complutense de Madrid, Facultad de Farmacia, leída el 22-10-2021
Collections