Publication:
Estudio histológico de la malla trabecular en pacientes con mutación en el gen "CYP1B1"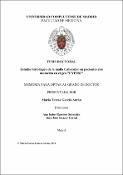 Advisors (or tutors)
Editors
Publisher
Universidad Complutense de Madrid
Abstract
El desarrollo del segmento anterior del ojo es un proceso complejo controlado por diferentes genes cuyos alelos pueden diferir en sus actividades biológicas correspondientes. El gen CYP1B1 juega un papel importante en la formación de las estructuras que conforman la vía convencional de drenaje del humor acuoso; su disfunción y mutaciones parecen generar goniodisgenesias graves en la cámara anterior del ojo. Hipótesis, justificación y objetivos. La hipertensión ocular es el principal factor de riesgo de la patología glaucomatosa; sin embargo, el control de la presión intraocular no siempre consigue detener la evolución de la neurodegeneración del nervio óptico asociada a esta enfermedad. Así pues, la hipótesis de partida de este trabajo apuesta por la existencia de otros mecanismos implicados en la fisiopatología del glaucoma...
The development of the anterior segment of the eye is a complex process controlled by different genes whose alleles may differ in their corresponding biological activities. The CYP1B1 gene plays an important role in the formation of the structures that make up the conventional pathway of aqueous humour outflow; its dysfunction and mutations seem to generate severe goniodysgenesis in the anterior chamber of the eye. Hypothesis, Justification and Objectives. Ocular hypertension is the main risk factor for glaucomatous disease; however, intraocular pressure control does not always manage to stop the optic nerve neurodegeneration associated with this disease. Thus, the starting hypothesis of this work banks on additional mechanisms involved in the pathophysiology of glaucoma...
Description
Tesis inédita de la Universidad Complutense de Madrid, Facultad de Medicina, Departamento de Inmunología, Oftalmología y ORL, leída el 27-11-2019
Collections