Publication:
El ciervo (Cervus elaphus) como reservorio de agentes transmisibles implicados en el fallo reproductivo en rumiantes domésticos y silvestres en "Los Quintos de Mora"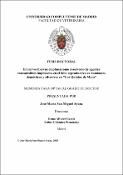 Authors
Advisors (or tutors)
Editors
Publisher
Universidad Complutense de Madrid
Abstract
La tecnificación de la ganadería en las últimas décadas ha propiciado que se incrementen los problemas sanitarios, en particular los asociados a las enfermedades compartidas con la fauna silvestre y con el ser humano (zoonosis). Las enfermedades infecciosas emergentes son la principal causa de muerte en el mundo y, actualmente, la fauna silvestre es el origen de más del 70 % de estas enfermedades. Todo ello ha llevado a acuñar la iniciativa "Una única sanidad", cuyo mensaje es que la sanidad humana está estrechamente relacionada con la sanidad animal y con el medio ambiente. Por tanto, es imprescindible adoptar estrategias de control de enfermedades transmisibles que engloben los tres pilares: el ser humano, la ganadería y la fauna silvestre y el medioambiente. De todos ellos, el pilar menos conocido es la sanidad de la fauna silvestre y, en concreto, la de los ungulados, que son los que tienen una relación más directa e intensa con el ganado doméstico. En España, el aumento del censo del ganado doméstico en explotación extensiva y la intensificación de esta producción han generado un incremento de la densidad de animales alrededor de los puntos de suplementación de agua y alimento, facilitando la transmisión de enfermedades entre el ganado doméstico y la fauna silvestre. Por otra parte, la sobreabundancia de especies cinegéticas, fundamentalmente el jabalí y el ciervo, unida a la ausencia de medidas de vigilancia epidemiológica (activa y pasiva)de las enfermedades transmisibles, incluyendo las zoonosis, están planteando importantes problemas sanitarios...
The livestock technification occurred during the last decades has led to an increase of health problems, particularly diseases shared by wildlife and humans (zoonoses). Emerging infectious diseases (EID) are the leading cause of death worlwide and, currently, wildlife is the source of more than 70% EID. The initiative "One Health" is based on the assumption that human health is closely related to animal health and the environment. Therefore, it is essential to adopt control strategies to combact transmissible diseases including the three pillars: humans, livestock and wildlife and environment. Health of wildlife and, in particular, ungulates, that share habitat with livestock and humans has been poorly investigated. The increase of the domestic cattle census raised under extensive management systems in Spain and the intensification of this productions have increased density of animals around water and feed supplementation points that favors the transmission of diseases between livestock and wildlife. On the other hand, the over abundance of gamespecies, mainly wild boar and red deer, together with the absence of epidemiological surveillance (active and passive monitoring) of transmissible diseases including zoonoses, are posing relevant health threats...
Description
Tesis inédita de la Universidad Complutense de Madrid, Facultad de Veterinaria, Departamento de Sanidad Animal, leída el 14-01-2020
Collections