Publication:
On random generation of fuzzy measures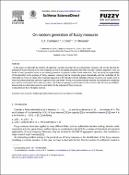 Advisors (or tutors)
Editors
Abstract
In this paper we deal with the problem of obtaining a random procedure for generating fuzzy measures. We use the fact that the polytope of fuzzy measures is an order polytope, so that it has special properties that allow to build a uniform algorithm. First, we derive an exact procedure based on an existing procedure to generate random linear extensions; then, we study the applicability of this algorithm to the polytope of fuzzy measures, showing that the complexity grows dramatically with the cardinality of the referential set. Next, we study other heuristics appearing in the literature for the polytope of fuzzy measures; our results seem to mean that these procedures cannot be applied to this case either. Finally, we propose another heuristic that reduces the complexity and could be used instead of the other procedures. We finish comparing the performance of this heuristic with the other possibilities, showing that our alternative seems to work better for the polytope of fuzzy measures.
Collections