Publication:
La calidad de la democracia de España y Chile. Un estudio a partir de la desigualdad social y el elitismo político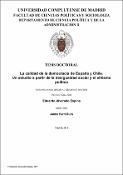 Files
Authors
Advisors (or tutors)
Editors
Publisher
Universidad Complutense de Madrid
Abstract
En este trabajo de investigación doctoral se aborda el estudio de la democracia y su calidad en España y Chile, a partir de dos variables estructurales que se consideran determinantes para establecer la calidad del contenido y los resultados del proceso democrático: la desigualdad social y el elitismo político. Con este objeto, el estudio se centra esencialmente en explorar los efectos que estas dos variables producen en tres componentes sustantivos de la democracia: la igualdad política, el pluralismo político y la accountability. Aspectos a los que se les confiere un papel articulador de la relación entre representación política y soberanía popular. A través de este modelo de estudio se pretende explicar la profunda disociación que existe entre élites políticas y ciudadanía en dos democracias asentadas durante la era neoliberal. Una era que se inicia en la década de los ochenta y se consolida en la de los noventa, con el tratado de Maastricht, la desregulación del mercado financiero y la renuncia de los partidos socialdemócratas a toda política que no sea funcional a la economía de mercado. Una época que además se caracteriza por la extensión global del capitalismo corporativo, la reducción del gasto fiscal, la desregulación financiera y la retórica del crecimiento económico basado en la economía de mercado...
This research deals with the study of democracy and its quality in Spain and Chile, based on two structural variables that are considered determinants to establish the quality of the content and the results of the democratic process: social inequality and politica l elitism. To this end, the study focuses essentially on exploring the effects of these two variables on three substantive components of democracy: political equality, politica l pluralism and accountability. Components that are given the role of articulating the relationship between political representation and popular sovereignty. The deep dissociation that exists between political elites and citizenship, in the established democracies, during the neoliberal era is what this model of study is aiming to explain. An era that began in the 1980s and became consolidated in the 1990s, with the Maastricht treaty, the deregulation of the financial market and the renunciation of social democratic parties to any policy that is not functional to the market economy. A period characterized by the global spread of corporate capitalism, the reduction of fiscal spending, financial deregulation and the rhetoric of economic growth based on the market's economy...
Description
Tesis inédita de la Universidad Complutense de Madrid, Facultad de Ciencias Políticas y Sociología, Departamento de Ciencia Política y de la Administración II, leída el 22/06/2017
Collections