Publication:
Analgosedación segura en el paciente crítico con ventilación mecánica, un trabajo de equipo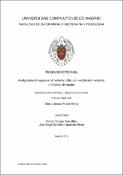 Files
Advisors (or tutors)
Sánchez-Izquierdo Riera, José Ángel
Editors
Publisher
Universidad Complutense de Madrid
Abstract
La mayoría de los pacientes que ingresan en la Unidad de Cuidados Intensivos (UCI) precisan de la administración de analgésicos y sedantes, para aliviar el dolor, la ansiedad, el estrés y facilitar la aplicación de cuidados y de técnicas de soporte vital, como la ventilación mecánica (VM). La analgesia y la sedación son una práctica habitual en la UCI y constituyen parte integral del tratamiento del paciente crítico. Su aplicación nos permite mantener un óptimo nivel de confort y seguridad en nuestros pacientes. Sin embargo, su uso no está exento de complicaciones, derivadas en su mayoría de su infra o sobre utilización, que pueden prolongar la VM, complicar la evolución y pronóstico del paciente crítico e incrementar el coste sanitario. En esta última década existe una amplia evidencia de que utilizar las mínimas dosis necesarias de analgo-sedación y promover una sedación ligera cooperativa, mediante la implementación de guías, algoritmos o Protocolos de Analgo-Sedación (PAS), tiene importantes beneficios para el paciente como la disminución del tiempo de VM, de las dosis y tiempos de sedación, de la incidencia de neumonía asociada a ventilación mecánica (NAVM) y de trastornos psicológicos (delirio y síndrome de estrés postraumático), de la realización de pruebas de imagen, la estancia y mortalidad en UCI y hospitalaria...
The majority of patients admitted to an Intensive Care Unit (ICU) require analgesics and sedatives to help them relieve pain, anxiety, stress and facilitate the implementation of care and life support techniques, such as mechanical ventilation (MV). Analgesia and sedation are a common practice in the ICU and are an integral part of the treatment of patients in critical condition. Its application allows maintaining an optimal level of comfort and security in our patients. However, its use does not exclude complications, mostly derived from their under/over use, which may extend the MV, complicate the evolution and prognosis of the patient in critical condition and increase health care costs. In the last decade there has been ample evidence that using the minimal doses necessary for analgo-sedation and promoting light cooperative sedation through the implementation of guidelines, algorithms or analgo-sedation protocols (ASP), have important benefits for the patient such as the decrease in the time of MV, in the doses and times of sedation, in the incidence of ventilator associated pneumonia (VAP) and psychological disorders (delirium and post-traumatic stress syndrome), in imaging testing and in ICU and hospital stay and mortality...
Description
Tesis inédita de la Universidad Complutense de Madrid, Facultad de Enfermería, Fisioterapia y Podología, leída el 22/01/2016
Collections