Publication:
Mitología Clásica y cultura pagana en la obra de San Agustín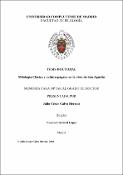 Files
Authors
Advisors (or tutors)
Editors
Publisher
Universidad Complutense de Madrid
Abstract
El objetivo de esta tesis es el estudio del protagonismo de San Agustín como transmisor de mitología clásica, así como de actor y testigo de la cultura pagana contemporánea de las últimas décadas del s. IV d. C. y primeras del V, a través de su prolífica obra. Los medios que nos han guiado en este estudio son principalmente las obras del propio doctor de Hipona, editadas en cuarenta y un volúmenes por la BAC (Biblioteca de Autores Cristianos), cuyos textos originales están tomados preferentemente de las ediciones de los Maurinos, Migne y CSEL (Corpus Scriptorum Ecclesiasticorum Latinorum). Los fragmentos originales han sido seleccionados de Corpus Corporum, de la Universidad de Zúrich, y de CSEL. Además de los textos agustinianos, nos han servido de referencia las obras de los primeros apologistas y Padres de la Iglesia, cuya influencia en nuestro autor fue notable en los asuntos que nos ocupan, especialmente, en la crítica de la religión pagana; tales fueron: Tertuliano, Arnobio, Lactancio, San Jerónimo y otros. Asimismo, se han analizado las obras de Varrón, Apuleyo, Cicerón, Salustio y Virgilio, entre otros autores clásicos, quienes forjaron la formación académica de San Agustín en los ámbitos de la retórica, de la filosofía, de la historia y de la poesía, entre otras cuestiones literarias y religiosas; esas obras y sus áreas de saber correspondientes trazan los cimientos que soportan una atalaya de magna erudición clásica desde la que el obispo de Hipona pudo verter su crítica contra los rescoldos del paganismo...
The target of this thesis is the study of Saint Augustine's leading role as a transmitter of classical mythology, as well as an acting witness to contemporary pagan culture in the late decades of the IV century AD and the early ones of the V century AD through his fruitful works. Most valuable guidance for this study has been the Doctor of Hippo's works themselves, published in forty-one volumes by BAC (Biblioteca de Autores Cristianos), the original texts of which have been chiefly taken from the Migne, Maurinos and CSEL (Corpus Scriptorum Ecclesiasticorum Latinorum) editions. The original fragments were assorted and taken from Corpus Corporum (Zurich University) and from CSEL. Apart from the Augustinian texts, reference has been sought for in the works of the early apologetics and Fathers of the Church, whose influence upon our doctor was remarkable as to the issues dealt with in this thesis, notably on the criticism of paganism. Such were Tertullian, Arnobe, Lactantius and Saint Jerome among others. The works of Varro, Apuleius, Cicero, Sallust and Vergil among other classical authors, who paved the way of Saint Augustine's education in the realms of rhetoric, philosophy, history and poetry, among other things literary and religious, have also been analysed. Those works and their matching areas of knowledge set the foundations that shored up a platform of classical scholarship from which the bishop of Hippo was able to pour his criticism on paganism's embers...
Description
Tesis inédita de la Universidad Complutense de Madrid, Facultad de Filología, leída el 06-11-2020
Collections