Publication:
Acumulación de capital, insuficiencia dinámica y crecimiento económico en América Latina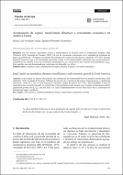 Advisors (or tutors)
Editors
Publisher
Instituto Complutense de Estudios Internacionales (ICEI)
Abstract
En este artículo analizamos teórica y empíricamente la relación entre la insuficiencia dinámica (ID) (Prebisch, 1970; Avendaño & Perrotini, 2015) y la tasa de crecimiento consistente con el equilibrio de la balanza de pagos (gbp) (Thirlwall, 1979) para un conjunto de economías de América Latina durante el periodo 1977-2011. Nuestra hipótesis consiste en que la ID exacerba la restricción externa al crecimiento debido a la brecha entre la tasa natural de acumulación de capital y la tasa de crecimiento garantizada (kn>gw) ya que existe una relación de causalidad de kn ag. Esto significa que está determinada por condiciones de demanda y de oferta.
In this paper we analyse theoretically and empirically the relationship between dynamic insufficiency (DI) (Prebisch, 1970; Avendaño & Perrotini, 2015) and the growth rate consistent with balance of payments (gbp) equilibrium (Thirlwall, 1979) for a set of Latin American economies during the period 1977-2011. Our hypothesis is that DI exacerbates the external constraint on growth due to the gap between the natural rate of capital accumulation and the guaranteed growth rate (kn>gw) and that there is a causal relationship between and. This means that is determined by demand and supply conditions.
Citation
Avendaño-Vargas, B. L. y Perrotini-Hernández, I. (2015): "Insuficiencia dinámica, crecimiento y desempleo en México, 1974-2012", Revista Investigación Económica, vol. 74, núm. 293, 99-139. Choi, I. (2001): "Unit Root Tests for Panel Data", Journal of International Money and Finance, vol. 20, núm.2, 249-272. Comisión Económica para América Latina y el Caribe, CEPALSTAT (2016), recuperado de http://estadisticas.cepal.org/cepalstat/WEB_CEPALSTAT/estadisticasIndicadores.asp?idioma=e>. Fondo Monetario Internacional, World Development Indicators (2016), recuperado de <http://data.worldbank.org/data-catalog/world-development-indicators>. Granger, C. W. J. (1969): "Investigating causal relations by econometric models and cross-spectral methods", Econometrica, vol. 37, núm. 3, 424-438. Groningen Growth and Development Centre, Penn World Table 8.1 (2016), recuperado de <http://www.rug.nl/ggdc/productivity/pwt/earlier-releases>. Harrod, R. (1939): "An Essay in Dynamic Theory", The Economic Journal, vol.49, núm. 193, 14-33. Im, K. S, Pesaran M. H. y Shin, Y. (2003): "Testing for unit roots in heterogeneous panels", Journal of Econometrics, vol. 115, núm. 1, 53-74. International Labour Organization, Key Indicators of Labour Market (2016), recuperado de <http://www.ilo.org/global/statistics-and-databases/research-and-databases/kilm/lang--en/index.htm>. Johansen, S. (1988): "Statistical Analysis of Cointegration Vectors", Journal of Economic Dynamics and Control, vol. 12, núm. 2—3, 231-254. Johansen, S. (1991): "Estimation and Hypothesis Testing of Cointegration Vectors in Gaussian Vector Autoregressive Models," Econometrica, vol. 59, núm. 6, 1551-1580. Johansen, S. (1995): Likelihood-Based Inference in Cointegrated Vector Autoregressive Models, Oxford University Press, Oxford. Kaldor, N. (1966):Causes of the Slow Rate of Economic Growth of the United Kingdom, Cambridge University Press, Cambridge. Larsson, R., Lyhagen, J. y Löthgren, M. (2001): "Likelihood-based Cointegration Tests in Heterogeneous Panels", TheEconometrics Journal, vol. 4, núm.1, 109-142. Levin, A., Lin, C. y Chu, C. J. (2002): "Unit root tests in panel data: Asymptotic and finite-sample properties", Journal of Econometrics, vol. 108, núm.1,1-24. Maddala, G. S. y Wu, S. (1999): "A Comparative Study of Unit Root Tests with Panel Data and A New Simple Test", Oxford Bulletin of Economics and Statistics, vol. 61, núm. S1, 631-652. Pacheco-López, P. y Thirlwall, A. P. (2007): "Trade Liberalisation and the Trade Off between Growth and the Balance of Payments in Latin America", International Review of Applied Economics, vol. 21, núm. 4, 469-490. Palley, T. (2003): "Pitfalls in the theory of growth: an application to the balance of payments constrained growth model", Review of Political Economy. vol. 15, núm. 1, 75-84. Prebisch, R. (1962): "El desarrollo económico de la América Latina y algunos de sus principales problemas",Boletín económico de América Latina, vol. 7, núm. 1, 5-63. Prebisch, R. (1970):Transformación y desarrollo: la gran tarea de América Latina,Fondo de Cultura Económica, México. Prebisch, R. (1981):Capitalismo Periférico: Crisis y Transformación,Fondo de Cultura Económica, México. Setterfield, M. (2006): "Thirlwall's law and Palley's pitfalls: a reconsideration", en Philip Arestis, John McCombie, y Roger Vickerman, (eds). Growth and Economic Development: Essays in Honour of A. P. Thirlwall, Edward Elgar, Reino Unido. Shaikh, A. y Moudud, J. (2004): "Measuring Capacity Utilization in OECD Countries: A Cointegration Method", Working Paper, núm. 415. Thirlwall, A. P. (1979): "The Balance of Payments Constraint as an Explanation of International Growth Rate Differences", Banca Nazionale de Lavoro Quarterly Review, vol. 32, núm. 128,429-438. Thirlwall, A. P. (2003):La naturaleza del crecimiento económico. Un marco alternativa para comprender el desempeño de las naciones, Fondo de Cultura Económica México.
Collections