Publication:
Ammonites, clinos tafonómicos y ambientes sedimentarios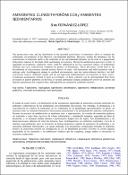 Advisors (or tutors)
Editors
Publisher
Museo Nacional de Ciencias Naturales: Sociedad Española de Paleontología
Abstract
El estado de conservación y la distribución de las asociaciones registradas de ammonites permiten interpretar los ambientes sedimentarios de las plataformas epicontinentales mesozoicas. Sin embargo, la abundancia o la concentración de conchas de ammonites en los sedimentos de las plataformas epicontinentales no puede ser utilizada como un indicador batimétrico directamente proporcional a la profundidad del ambiente sedimentario. Durante los procesos de reelaboración en ambientes inter- a supramareales, las conchas de ammonites pudieron ser sometidas a varias fases sucesivas de relleno sedimentario y cementación temprana, separadas por fases de disolución, y se formaron moldes internos concrecionales desprovistos de septos. Los hemiammonites y las hemiconcreciones debieron de tener las primeras fases fosildiagenéticas en ambientes confinados, cerca de la interfase agua/sedimento, pero la formación de hemiconcreciones requiere el suministro de carbonatos y no representa ambientes subsaturados o de aguas profundas. Las asociaciones condensadas formadas en ambientes distales de plataforma pueden ser distinguidas de las de plataforma proximal teniendo en cuenta algunas propiedades de los elementos y las poblaciones tafónicas que las componen, aunque ambas se encuentran en secciones condensadas. [ABSTRACT] The preservation state and the distribution of the recorded associations of ammonites allow to interpret the sedimentary environments of the Mesozoic epicontinental platforms. However, neither the abundance nor the concentration of ammonite shells in the sediments of the epicontinental platforms can be used as a proportional bathymetric indicator to the depth of the sedimentary environment. During the reelaboration processes in inter- to supratidal environments, ammonite shells could be submitted to several successive phases of sedimentary infilling and early cementation separated by phases of dissolution. These processes would lead to the development of concretionary internal moulds devoid of septa. Half-ammonites and half-concretions had to undergo early fossildiagenetic phases in confined environments, near the water/sediment interface, but halfconcretions require carbonate supply and do not represent undersaturated environments or deep waters. Condensed associations formed in deep environments of distal platform can be distinguished from those developed in shallow platforms on the basis of several taphonomic features displayed by preserved elements and taphonic populations that compose them, although both are included in condensed sections.
Collections