Publication:
Musealización de tapices históricos en instituciones eclesiásticas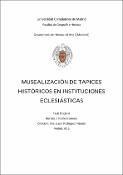 Authors
Advisors (or tutors)
Editors
Publisher
Universidad Complutense de Madrid
Abstract
En los últimos años asistimos a una recuperación del interés por los tapices históricos que se concreta, en el caso de las Instituciones eclesiásticas españolas, en la apertura de nuevas exposiciones en salas permanentes. Nosotros hemos seleccionado diez casos para su estudio en profundidad, entendidos como modelos diferenciados, y por tanto de referencia, en este relato de recuperación de los tapices como elementos con personalidad propia de nuestro patrimonio cultural. Los tapices han sido tradicionalmente objeto de estudio en textos que han abordado aspectos como su análisis iconográfico, sus centros de producción y su uso o función. En los últimos años asistimos a la renovación en los montajes expositivos y han surgido exposiciones museográficas de tapices en iglesias y catedrales. Se trata de un campo de estudio disperso y no hay ningún estudio global sobre sobre la exposición de tapices en estas instituciones eclesiásticas. Los tapices forman parte del Patrimonio Cultural y su musealización contribuye a conservar y poner en valor estos bienes que, al tiempo, se constituyen en elementos dinamizadores de la economía local. Consideramos que la tarea del historiador es comprender el presente y tomar como referencia las interpretaciones del pasado a través de documentos, por este motivo hemos prestado una gran atención a todos los procesos de formación de las colecciones de las instituciones eclesiásticas estudiadas. Esas referencias históricas influyen de forma directa o Indirecta en lo que hoy queda de sus colecciones. Ese relato de la memoria tiene que ver con la forma en que se ha planteado la decisión de musealizar y compartir con un público amplio estos tapices...
In recent years we are witnessing a revival of interest in the historical tapestries that takes shape, in the case of the Spanish ecclesiastical institutions, in opening new permanent exhibition halls. We have selected ten cases to study in depth, understood as different models, and therefore references in this storytelling of recovering tapestries as elements with their own personality of our cultural heritage. Tapestries have been traditionally under study in texts that have addressed issues such as their iconographic analysis, its production centers and its use or function. Recently we are witnessing the renewal of exhibition mounts and museum exhibitions of tapestries that have emerged in churches and cathedrals. It is a dispersed field of investigation and there is no global study on the exposure of these tapestries in ecclesiastical institutions. Tapestries are part of Cultural Heritage and its musealization helps preserve and enhance the value of these assets that, in time, constitute the driving forces of local economy. We believe that the historian's task is to understand the present and to refer the past through documents, which is why we have paid great attention to all the processes of forming the collections of the ecclesiastical institutions studied. These historical references influence directly or indirectly in what is now left of their collections. That story of the memory has much to do with the decision of musalization of these tapestries and sharing them with the public...
Description
Tesis inédita de la Universidad Complutense de Madrid, Facultad de Geografía e Historia, Departamento de Historia del Arte I (Medieval), leída el 21/01/2016
Collections