Publication:
Dron de vuelo autónomo con reconocimiento basado en inteligencia artificial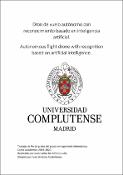 Authors
Advisors (or tutors)
Editors
Abstract
El desarrollo actual de las tecnologías de la información está haciendo cada vez más relevante el papel de la robótica y la inteligencia artificial en los distintos campos de trabajo e investigación (robots médicos, de exploración, de rescate, etc.). Partiendo de estos avances, la idea de este proyecto surgió al ver en el telediario un helicóptero llevando a cabo la búsqueda de dos excursionistas perdidos en una zona boscosa. Pensando en esto, se me ocurrió si toda esta explosión de avances en el campo de la robótica se podía aplicar a esta tarea. Fue suficiente una búsqueda preliminar en Internet, para comprobar que, como era de esperar, la idea llevaba ya bastantes años en desarrollo y cubría múltiples facetas: El tipo de vehículos, los posibles escenarios de rescate, la planificación de la búsqueda, el guiado de los vehículos, su navegación segura, etc. De entre todas estas facetas, me pareció interesante proyectar la construcción de un cuadrotor, empleando componentes comerciales, y el desarrollo de los algoritmos necesarios para su navegación autónoma. Además, el vehículo llevaría como payload una cámara y un computador que permitiera, empleando redes neuronales, identificar posibles personas extraviadas. Se decidió por tanto diseñar desde cero un aparato que fuera capaz de, dado un marco de coordenadas, realizar la búsqueda de objetivos sin necesidad de la supervisión ni el control humano, en concreto se pretende en este trabajo sentar las bases hardware y software que componen este tipo de aparatos. Debido a las circunstancias del presente curso no ha sido posible llevar a cabo pruebas reales con el dron construido. Por ello, se desarrolló un modelo, fiel al sistema real, para demostrar la viabilidad de la propuesta mediante diversas pruebas ejecutadas en un simulador.
The current development of data technology is making it more relevant the role of robotics and artificial intelligence within different areas of investigation and working programs (medical robots, exploring, rescue, etc). Based on these advances, the idea of this project came from watching a helicopter, in a news program, that was searching for missing travelers in a wooded area. Thinking of this event, the idea of applying all this robotic improvement to this kind of task came to mind. A simple research on the internet was enough to confirm that this idea was being developed from many years ago, and it covered multiple facets. Such as the vehicle type, the diverse possible scenes for the rescue, the search planning, how to control and guide the vehicles, safe navigation, etc. From among these facets, it looked appealing to design a quadrotor using commercial components, just as the development of the necessary algorithm for its autonomous navigation. Furthermore, the vehicle would incorporate as a "payload", a camera, and a computer that allowed it, with a neural net, identify possible missing people. Therefore, I decided to design from the beginning a device that was able to search for targets without human supervision nor human control, giving a coordinates frame. It is expected to establish the hardware and software basis that put together this kind of device. Due to present circumstances, it has not been possible to carry out a real test on the drone. Therefore, it developed a model, faithful to the real system, to demonstrate the proposal viability by several tests executed in a simulator.
Description
Trabajo de Fin de Grado en Ingeniería del Software, Facultad de Informática UCM, Departamento de Arquitectura de Computadores y Automática, Curso 2019/2020.