Publication:
El Derecho ante la transformación tecnológica del medio rural en el entorno global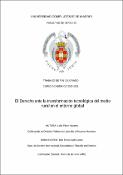 Authors
Advisors (or tutors)
Editors
Abstract
El presente trabajo analiza el medio rural en una sociedad marcada por el desarrollo tecnológico y el imperio de la globalización, para dar cuenta de su importancia en los procesos de cambio social. Se aborda el análisis del sistema económico del medio rural, con la agricultura como actividad preponderante y determinada por la Unión Europea, que también va dejando paso a otras siguiendo conceptos como la multifuncionalidad. Asimismo, se exponen las potencialidades del teletrabajo como herramienta de dinamización y de generación de riqueza proveniente de los denominados sectores cuaternarios, así como el gran reto de la erradicación de la brecha digital. Desde el punto de vista jurídico se analizan las instituciones por excelencia rurales y también otras figuras nuevas como el contrato territorial que responden al concepto de desarrollo rural sostenible. Como cuestiones de calado para la Filosofía del Derecho se han abordado la globalización, las redes de poder en tanto protagonistas del plano transnacional, el agotamiento de los Estados y el surgimiento de localismos que reivindican canales de participación democráticos, así como también se ha analizado el sistema cultural y de valores para explicar factores tales como el desarraigo entre mujeres y jóvenes.
The present Project analyses the rural environment in a society marked by technological development and globalization, to highlight their significance in processes of social change. An analysis of the rural environment´s economic system is made, where agriculture is the leading activity and how it is stated by de European Union, although nowadays concepts such as multifunctionality prevail as well. Additionally, teleworking and its potentialities as a tool for stimulation and as a wealth generating incoming from the so-called quaternary sectors are presented all together with the big challenge of eradicating the digital gap. The key institutions of the rural environment are analysed from a legal perspective, just as some other new figures like the territorial contract, which answers to the concept of sustainable rural development. Due to their importance for Philosophy of Law, ideas such as globalization, power networks and their influence in the transnational plane, the exhaustion of states and the emergence of localisms that reclaim democratic mechanisms of participation have been addressed. Fort the same reason, it has been considered the cultural and values system in order to outline factors such as the estrangement between women and young people.