Publication:
HiBeauty! Recomendaciones para la piel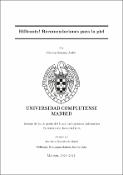 Authors
Advisors (or tutors)
Editors
Abstract
Desde hace algunos años, el cuidado de la piel del rostro está en auge, lo que implica que cada vez más usuarios se preocupen por el mismo. HiBeauty! es una aplicación para ayudar a dichos usuarios que quieran cuidar de una manera distinta y mejor su rostro. Este proyecto recomienda productos en función de la piel que especifica el usuario, muestra los ingredientes dañinos o nocivos para que el usuario decida si quiere o no comprar o seguir utilizando el producto que ha escaneado previamente para su análisis. Este desarrollo se puede ver implementado tanto en una página web como en una apk para teléfonos móviles.
For some years now, facial skin care has been on the rise, which means that more and more users are worrying about it. HiBeauty! is an application to help those users who want to take better care of their facial skin. This project recommends products based on the skin that the user specifies, shows the harmful or toxic ingredients so that the user decides whether or not to buy or continue using the product that he has previously scanned for analysis. This development can be seen implemented both on a web page and in an apk for mobile phones.
Description
Trabajo de Fin de Grado del Grado en Ingeniería Informática, Facultad de Informática UCM, Departamento de Ingeniería del Software e Inteligencia Artificial, Curso 2020-2021